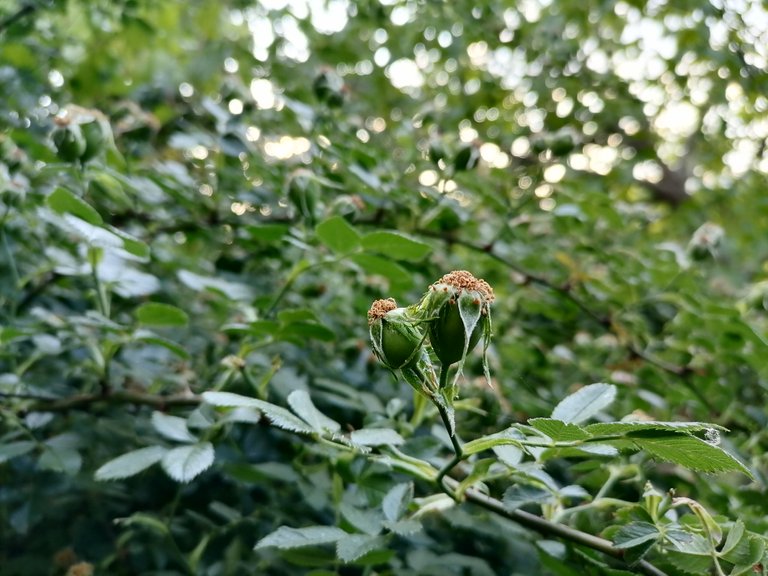 En: Hello there. I took a little walk today afternoon. The rosehip trees and fruits on the roadside caught my attention. This year, the rosehip looks very fertile.
It reminded me of my childhood years. Rosehip was one of our livelihoods in my childhood. We used to collect the fruits when they were ripe, dry them and sell them. We used to meet our need for notebooks and pencils. Sometimes we would even get a sack of potatoes in exchange for rosehips.
Rosehip can be used in many areas. The most important uses that I know of are:
Rosehip tea is produced

Jam is made

Biomedical
"Vitamins in rose hips:
Calcium
C vitamin
Iron
Vitamin E
Selenium
Manganese
B complex vitamin"
The diseases that rose hips are good for are explained as follows:
"Rosehip is a medicinal plant that has been used since ancient times. It strengthens the immune system because it contains high levels of vitamin C. It is very useful against colds and flu in winter. Rosehip, which has become especially popular with its tea, has been a plant widely used by herbalists for healing throughout history. It is still widely used for stomach spasms, prevention of stomach ulcers, intestinal and stomach disorders, especially diseases caused by vitamin C deficiency. Rosehip tea is used for diarrhea, constipation, gallbladder and stones, urinary system and kidney disorders, gout, weight loss and chest diseases. It's used for sickness."
It was one of the types of tea we consumed most, especially in the morning, next to breakfast. Thyme tea was consumed at least as much as rosehip tea in our house. We used to consume Rize Tea, which we know as normal tea, very rarely. Now we are almost addicted to regular tea. Now we rarely consume the herb. Herbal teas have become the exception.
I am attaching the rosehip photos I took during my walk here. They are still green in color. They will be red in color when ripe.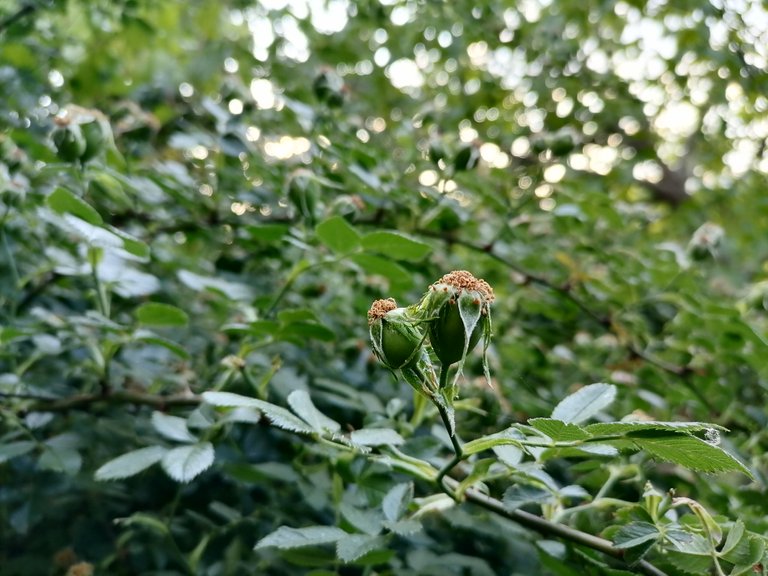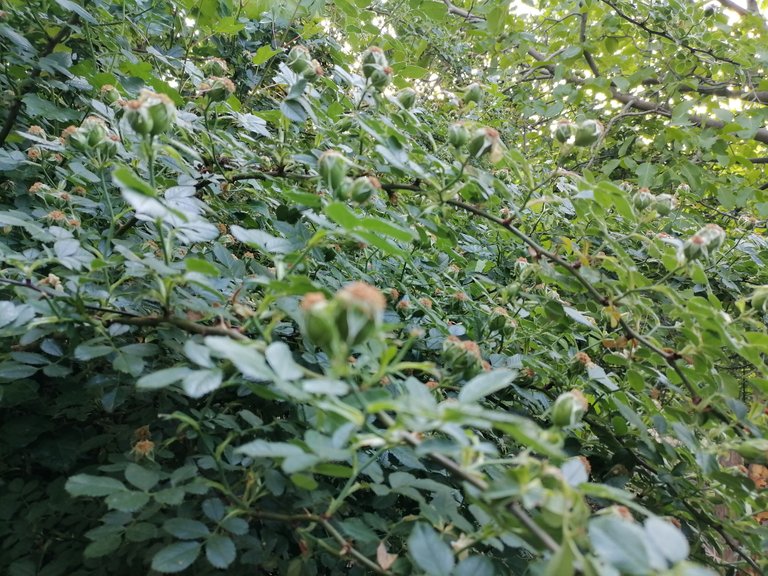 Note1: The parts I quoted are from the following site
Note2: I translated the article from Turkish with Google Translate.
Tr: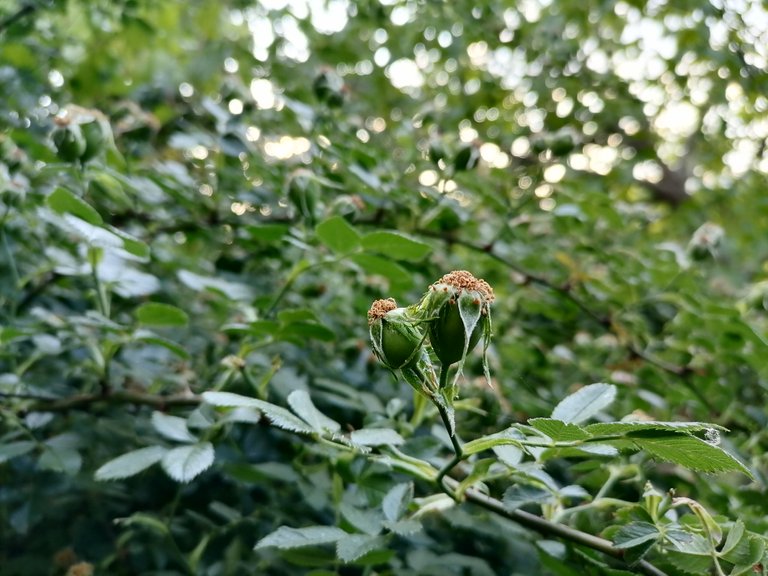 Merhaba. Bugün öğleden sonra biraz yürüyüş yaptım. Yol kenarındaki kuşburnu ağaçları ve meyveler dikkatimi çekti. Bu yıl kuşburnu çok verimli görünüyor.
Bana çocukluk yıllarımı hatırlattı. Kuşburnu çocukluğumda geçim kaynaklarımızdan biriydi. Meyveleri olgunlaşınca toplar, kurutur ve satardık. Defter ve kalem ihtiyacımızı karşılıyorduk. Bazen kuşburnu karşılığında bir çuval patates bile alırdık.
Kuşburnu birçok alanda kullanılabilir. Bildiğim en önemli kullanımları:
Kuşburnu çayı üretilir

Reçel yapılır

Biyomedikal
"Kuşburnundaki vitaminler:
Kalsiyum
C vitamini
Demir
E vitamini
Selenyum
Manganez
B kompleks vitamini"
Kuşburnunun iyi geldiği hastalıklar şu şekilde anlatılmaktadır:
"Kuşburnu eski çağlardan beri kullanılan şifalı bir bitkidir. Yüksek oranda C vitamini içerdiği için bağışıklık sistemini güçlendirir. Kış aylarında soğuk algınlığı ve gribe karşı çok faydalıdır. Özellikle çayı ile popüler hale gelen kuşburnu, Tarih boyunca aktarlar tarafından şifa amacıyla yaygın olarak kullanılan bir bitki olmuştur.Mide spazmlarında,mide ülserlerinin önlenmesinde,bağırsak ve mide rahatsızlıklarında özellikle C vitamini eksikliğinden kaynaklanan hastalıklarda kuşburnu çayı ishal,kabızlık,safra kesesi tedavisinde yaygın olarak kullanılmaktadır. ve taşlarda, üriner sistem ve böbrek rahatsızlıklarında, gut, kilo verme ve göğüs hastalıklarında kullanılır. Hastalıklarda kullanılır."
Özellikle sabahları kahvaltının yanında en çok tükettiğimiz çay türlerinden biriydi. Bizim evde kekik çayı en az kuşburnu çayı kadar tüketilirdi. Normal çay olarak bildiğimiz Rize Çayını çok nadir tüketirdik. Şimdi neredeyse normal çay bağımlısıyız. Şimdi otu nadiren tüketiyoruz. Bitkisel çaylar istisna haline geldi.
Yürüyüşüm sırasında çektiğim kuşburnu fotoğraflarını buraya ekliyorum. Hala yeşil renkteler. Olgunlaştığında rengi kırmızı olacaktır.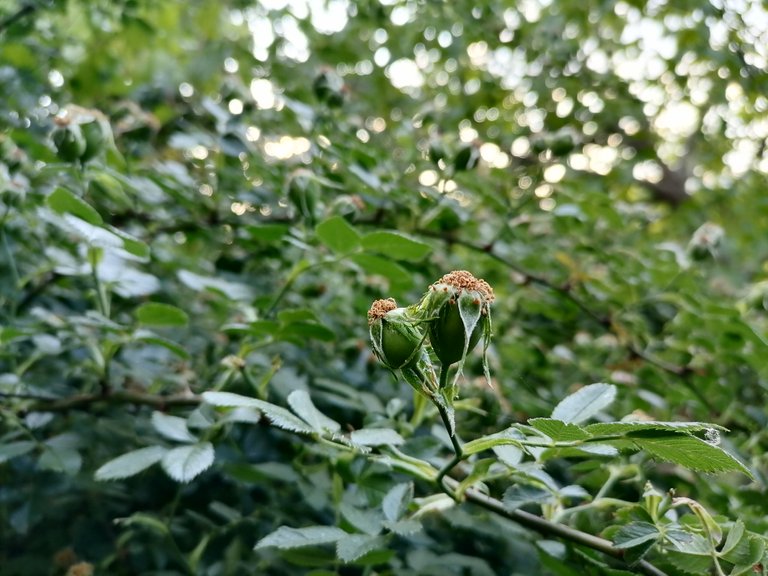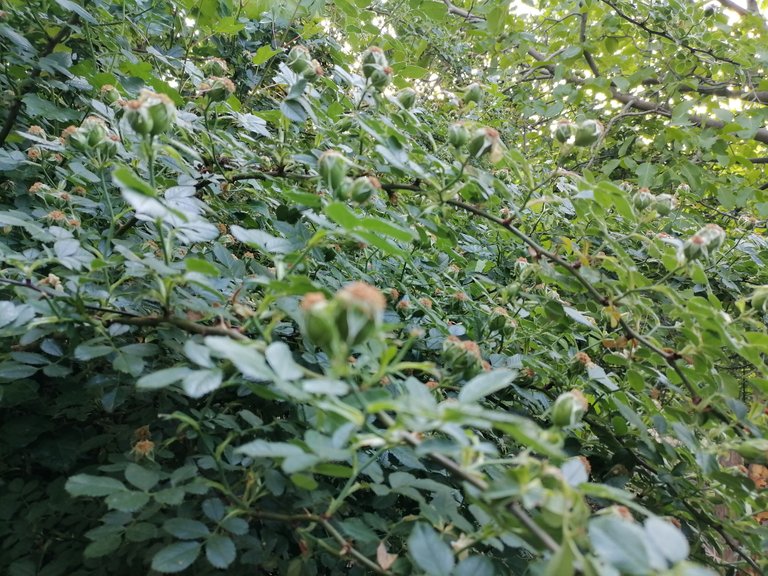 Not: Alıntı yaptığım kısımlar aşağıdaki siteden