I love getting lost in story, whether it arrives as a book, movie, or play. There's no question that being immersed in another world is magical and intrinsic to the human experience.
From a young age, I studied the idea of "Story." At the age of 9, I read a book dedicated to the fundamentals of story and how stories are created—the inciting incident, rising action, climax, etc. I continued studying story structure and theory, and I still do to this day! I've written a few short stories, and I've created a live story on my Twitch channel, and my website GubbaTV.com where people follow along with me, Gubba, and my daily doings. I love telling stories, whether it's a story about the silly mishap I had at the store that day, or one about my past that I can animate and bring back to life by sharing.
I implement much of what I know about storytelling in my comic book, Frankie Ravens.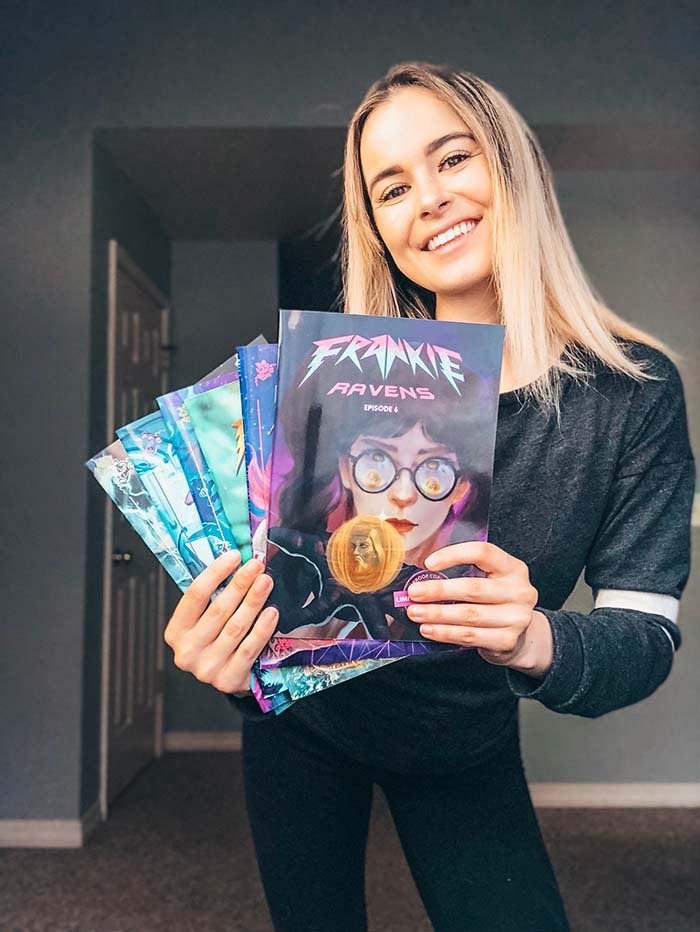 I love to intertwine the various techniques of storytelling that I've learned and practiced throughout the years creating my own personal works of art. I enjoy engaging other noteworthy stories like Lord of The Rings, Terminator, Harry Potter, and stories from Greek Mythology, etc. My inspiration for my stories (in all their forms) stems from my study of many great works and theories that have been in existence for over a century. I think it's neat I can incorporate all that magic into my own storytelling.
My first ever Story was about astronauts who travelled to the moon and got lost, but found their way back to the spaceship by following their boot prints. I was 4 when I wrote this and drew the accompanying pictures, but I treasure this as my first story. Years later, I'm writing about a superhero librarian who was abandoned at birth at a library. At 18 years old, she is given magic glasses and introduced to the Council of Librarians—a secretive group that overseas and protects the creation of Story throughout the world and all of time.
I hope you can find a good story to immerse yourself into, and if you need direction, I know a great place to start!