Today I decided to create my second ever NFT and I do so on the same platform in which I created my first ever NFT; HiveMeme (https://www.hiveme.me). The NFT I created today will have a usecase and will be inexpensive to purchase (purchasable using MEME tokens only). Before we take a look at the NFT and its description lets go over how to create a MEME NFT on HiveME.ME.
---
How To Create An NFT On HiveME.ME
Go to https://www.hiveme.me/
Sign in using your Hive Network Posting Key
Navigate to top of page
Locate and click the NFT link displayed
Under NFT Market click MINT
Follow the displayed instructions
---
Each NFT creation costs 600 MEME to create. Each additional edition of a specific NFT will cost an additional 100 MEME. NFT creation on HIVEME.ME can be created in Audio, Image and Video form. When creating your NFT you will have two options of rights to choose from. The first being Private and the second Limited Production Rights. If you are unsure on what rights to choose I would recommend you choose Private. Before completing the above steps you will need to get whitelisted. The above steps will also help you find the whitelist area. Once there follow instructions on how to get whitelisted.
---
My NFT Description
Send this NFT to @rentmoney for a 100% upvote from the @rentmoney Hiveme.me account. RentMoney holds over one million staked MEME. If you don't specify which post to upvote @rentmoney will upvote your most recent created content that has a MEME included in it. RentMoney reserves the right to cancel any upvote and provide the sender back a full MEME refund in place of giving an upvote. This is done manually so keep that in mind when purchasing. If you have any questions visit the hiveme.me/@rentmoney blog and ask them before purchase. Happy MEMEing everyone!
---
Rules For MEME Upvote:
(1) Content must contain a MEME
(2) That is it because
(3) Rules Suck
---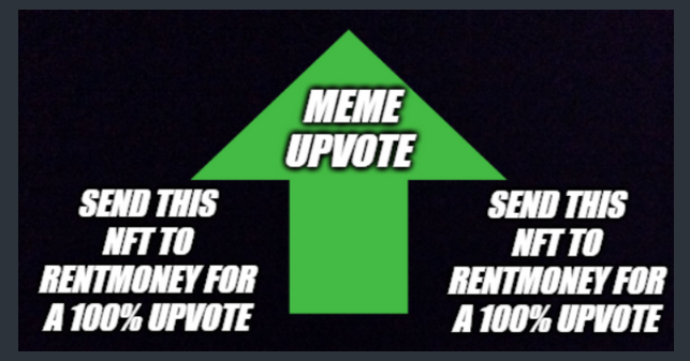 ---
Purchase The Above NFT Below:
https://www.hiveme.me/nfts/rentmoney_meme-upvote-collection_meme-upvote
---
Purchase MEME On Hive-Engine:
https://hive-engine.com/?p=market&t=MEME
Purchase MEME On LeoDex:
https://leodex.io/market/MEME


---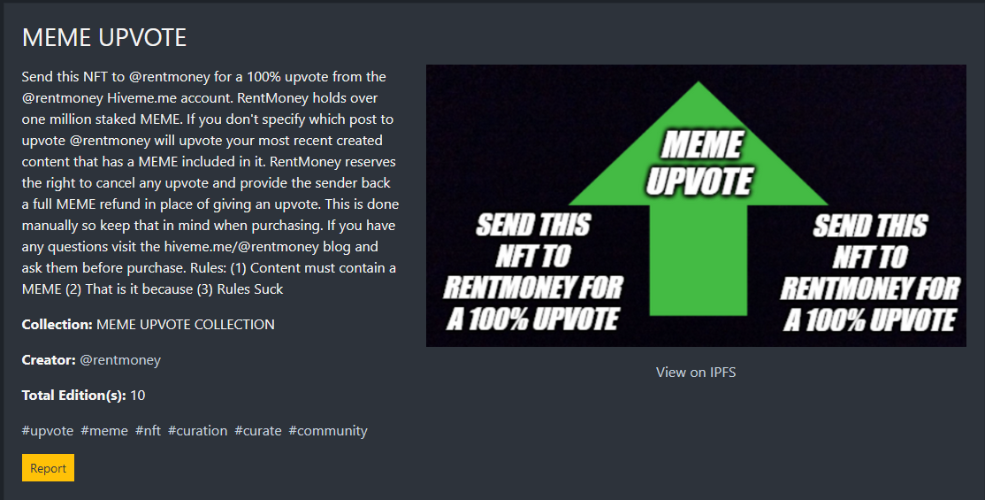 ---
MEME COLLAGE VIDEO
Video Credit: Pixel-Master64