Hello all Hive friends and Risingstar lovers......
Risingstargame and Splinterlands are the play2earn games I love the most...
In my previous post I share how I onboard four peoples. I examined then the play2earn concept also and I am glad to share that they are doing well and shown the intrset in games also.
Few day back one of my friend ask me how to purchase cards in risingstar. He is struggling with low fan condition and want to increase the permanent fans in his collection.
So I am writing this post to show step by step procedure to purchase cards inside the game.
---
I am using the Keychain app to login on risingstargame.com
Procedure is similar if you are using the laptop or computer.
After login to Keychain clcik on three horizontal line on top right side to expand the menu bar. Click on the browser option from menu.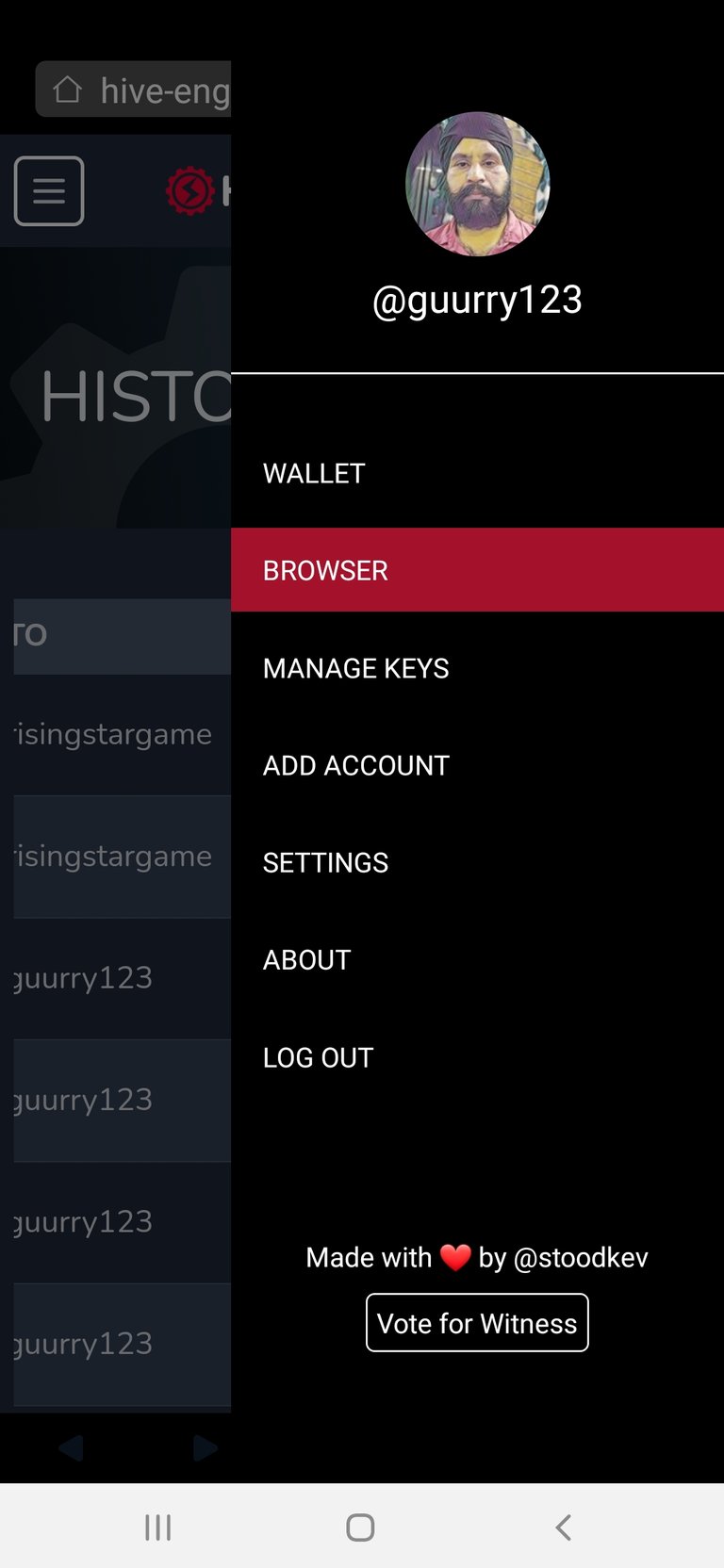 ---
Enter the risingstargame.com in url to open the game page.
Clik on login option (on top right side on the web page).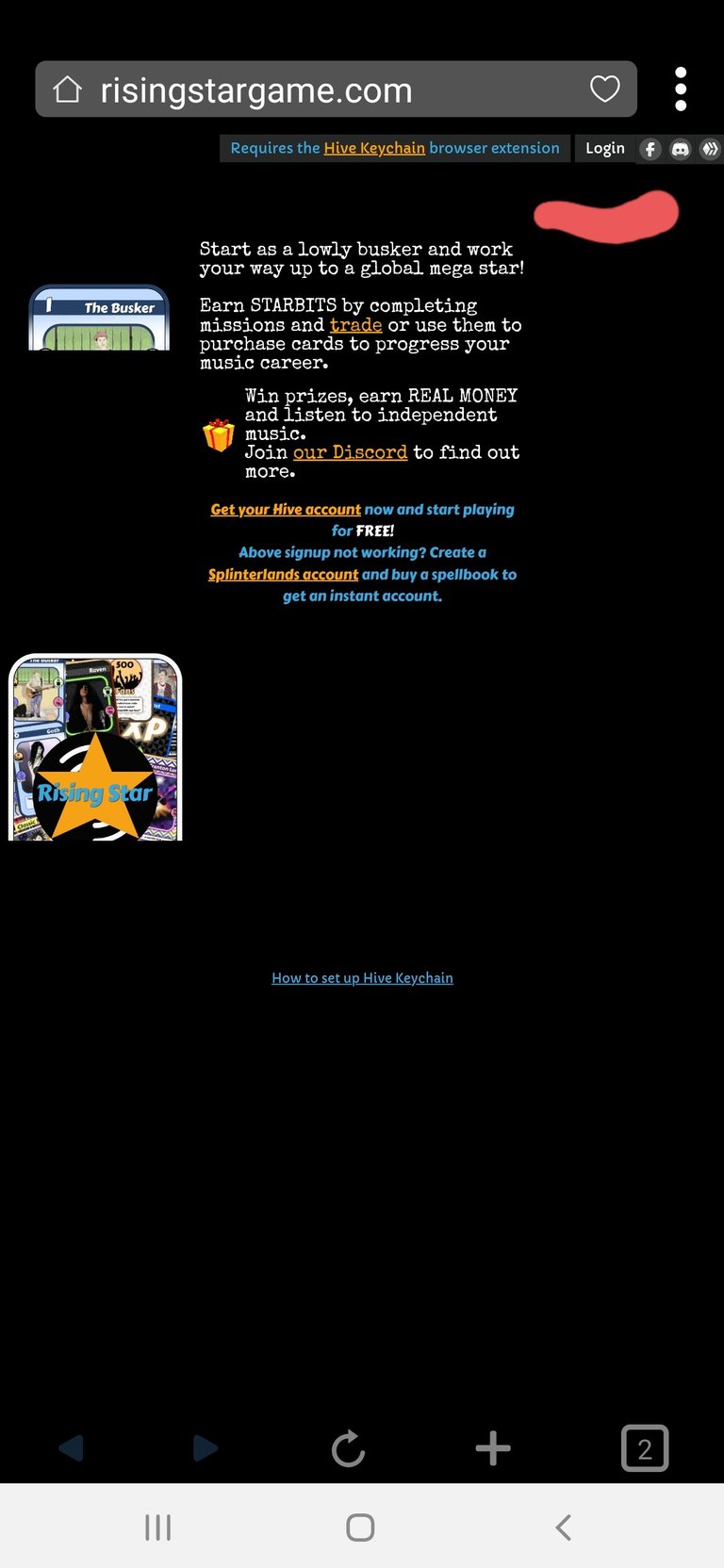 ---
Enter the user name in the pop-up window and click on ok.
(If you will see again shows the same login page click again on login and enter your username. I guess its a bug in the game as it does not login when we enter the user name and press ok button.)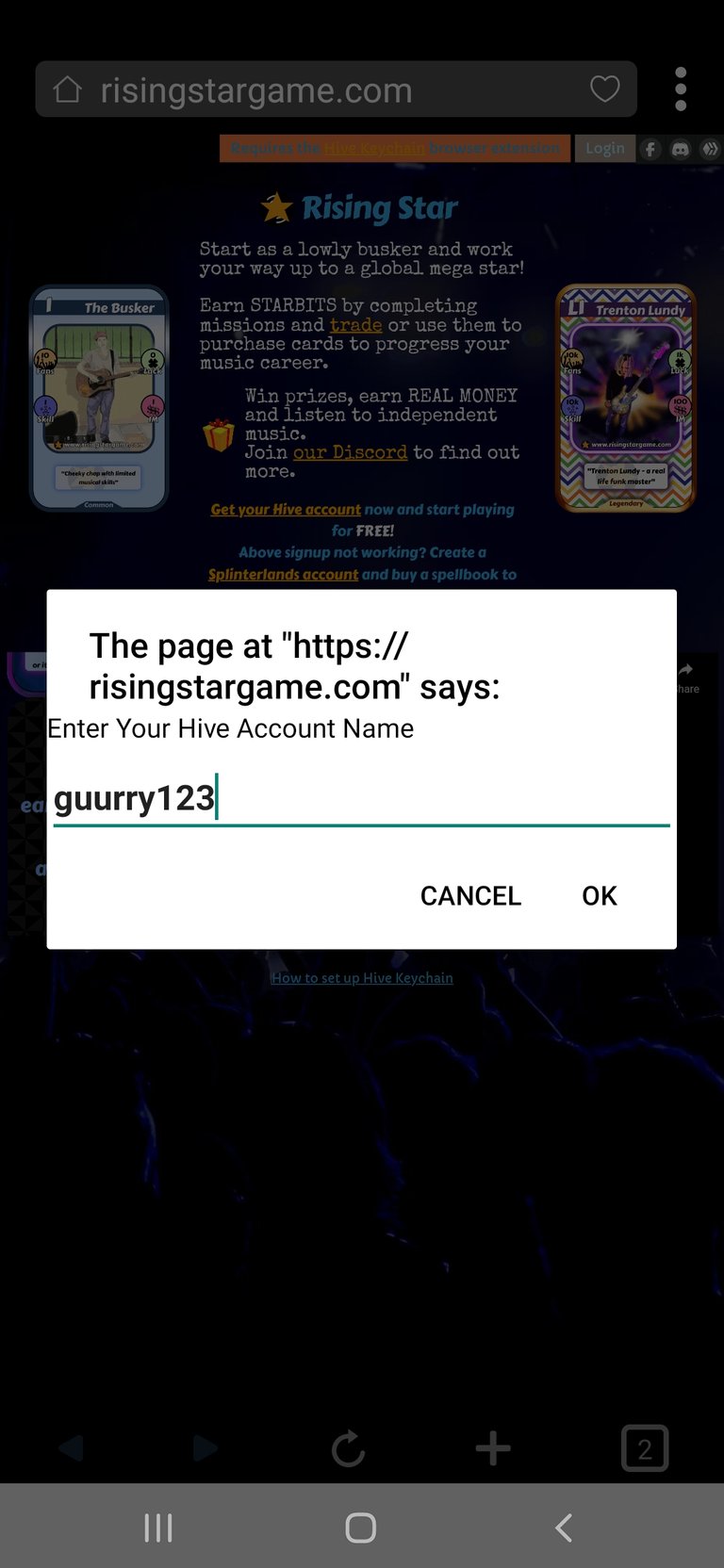 ---
Keychain will ask for the authorization click on confirm.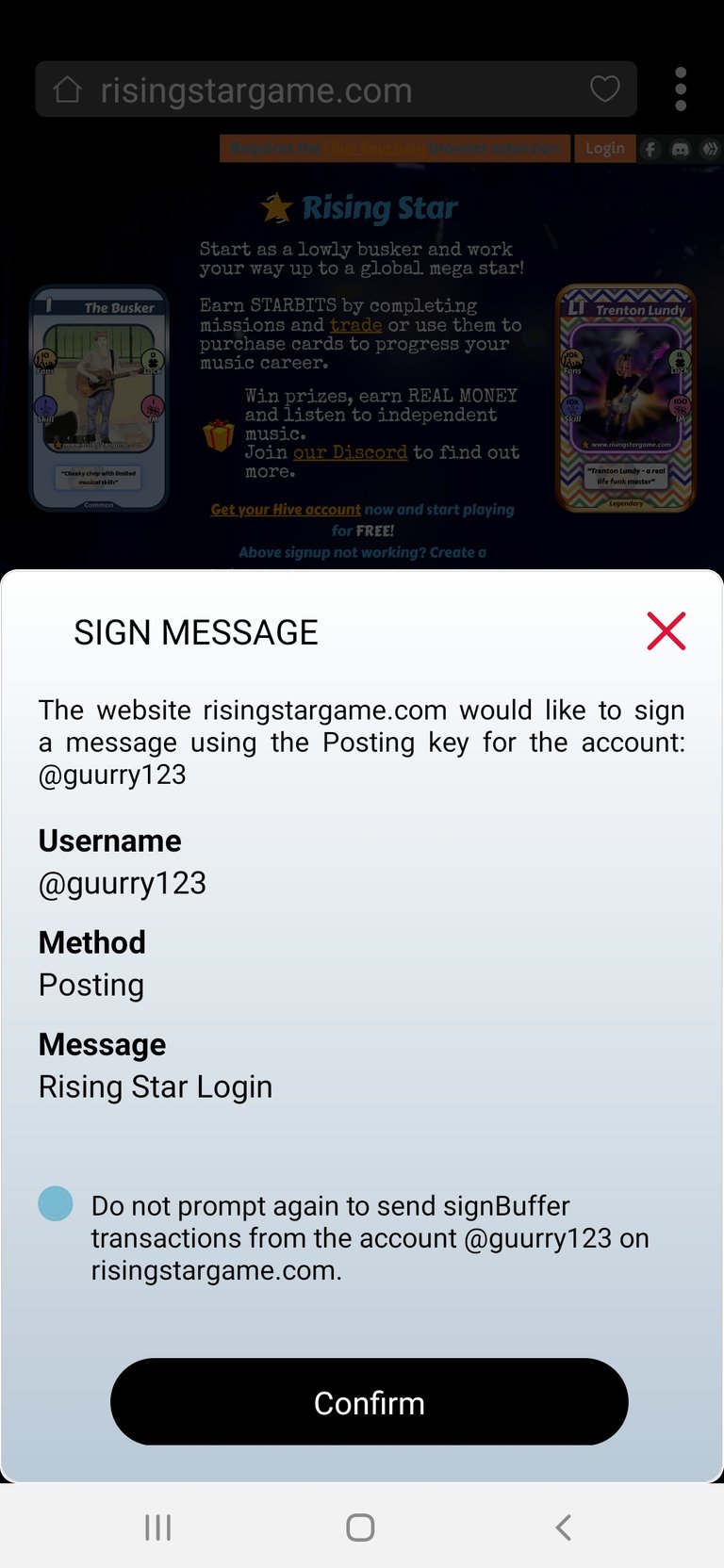 ---
You will land on the front page of the game. Clcik on cards option (top middle button).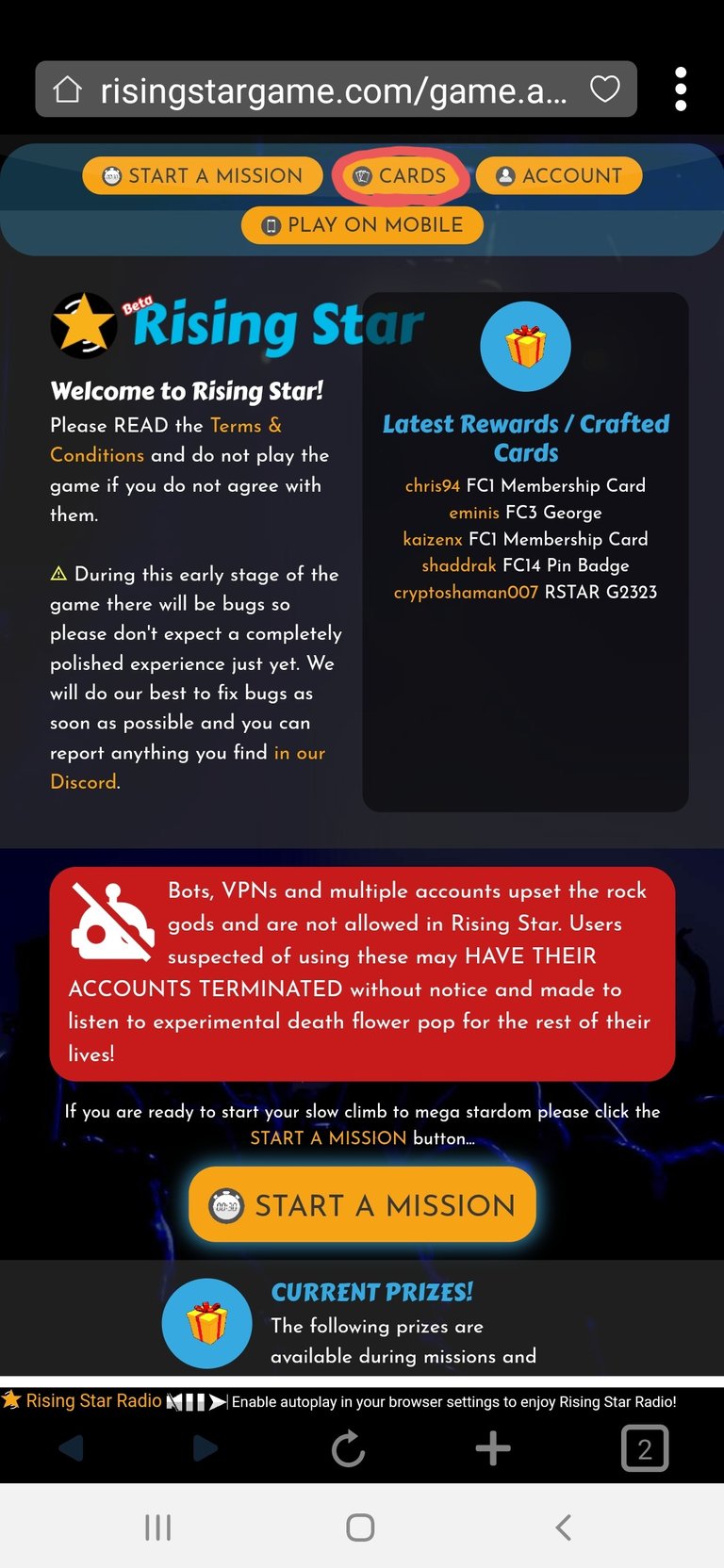 ---
If you are on mission page then clcik on third option as highlighted in below pic.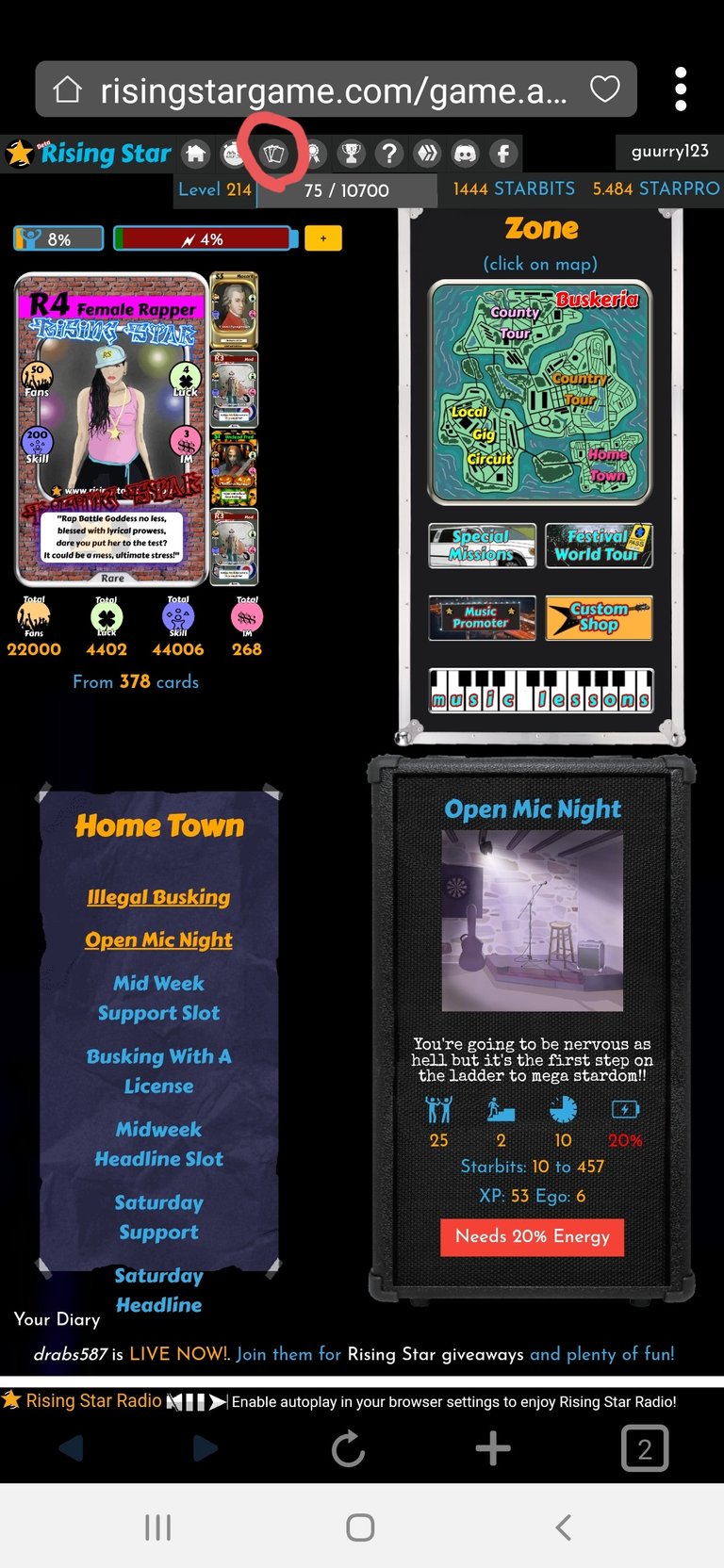 ---
You will land on card page and it will show all the cards published by the developer till now. Some of them are black & white and some are colorful. The color differentiates the ownership, the card has color belongs to you (ownd by the user).
If you notices their are some more option ie people, instruments, booster, vehicles etc. You can explore them also.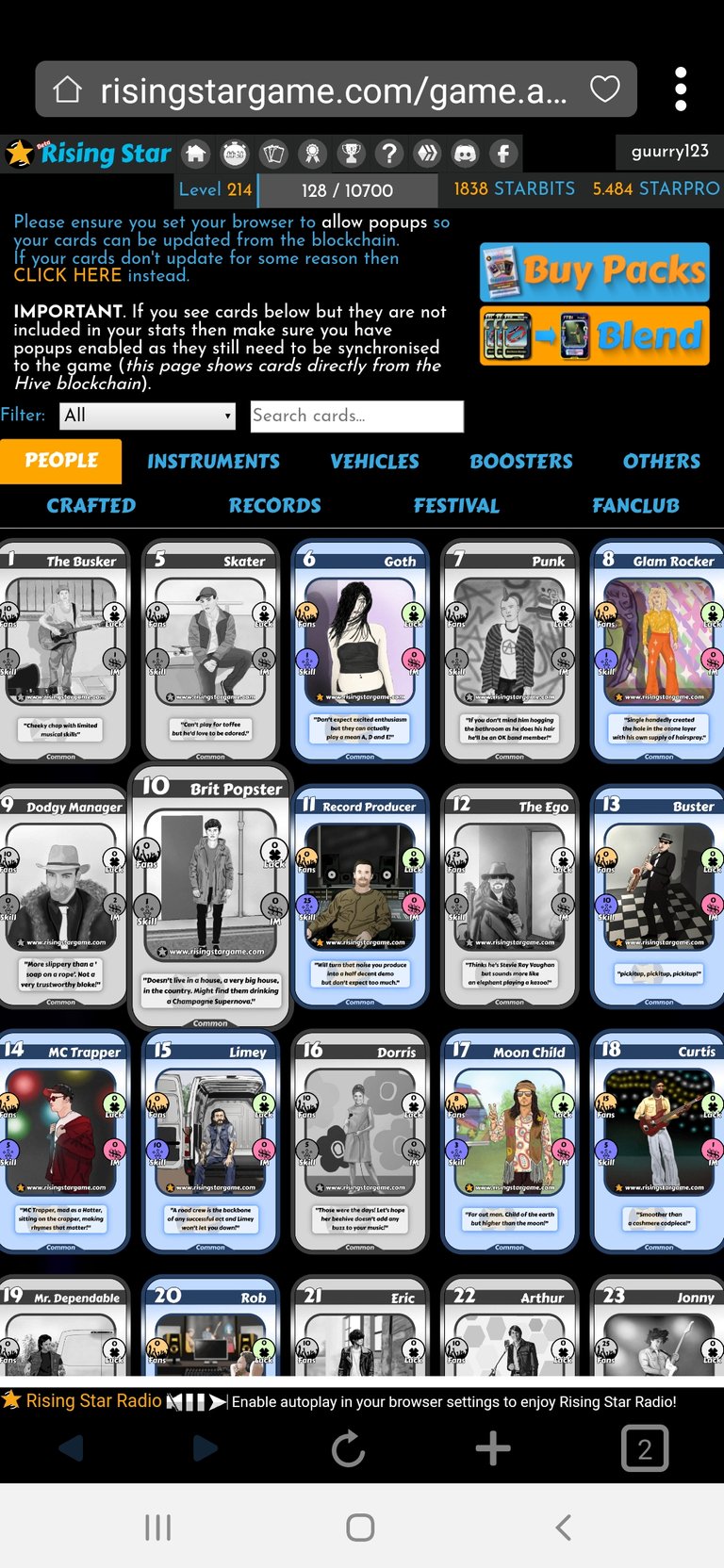 ---
You can see the stats of each card as well and clcik on the card you wanna purchase. In my case I am purchasing the R201 Maisy, which has 100 fans 125 skill 2 luck and 2 IM.
Default it will show under My Card. Click on Market option to see the available cards in market for sale.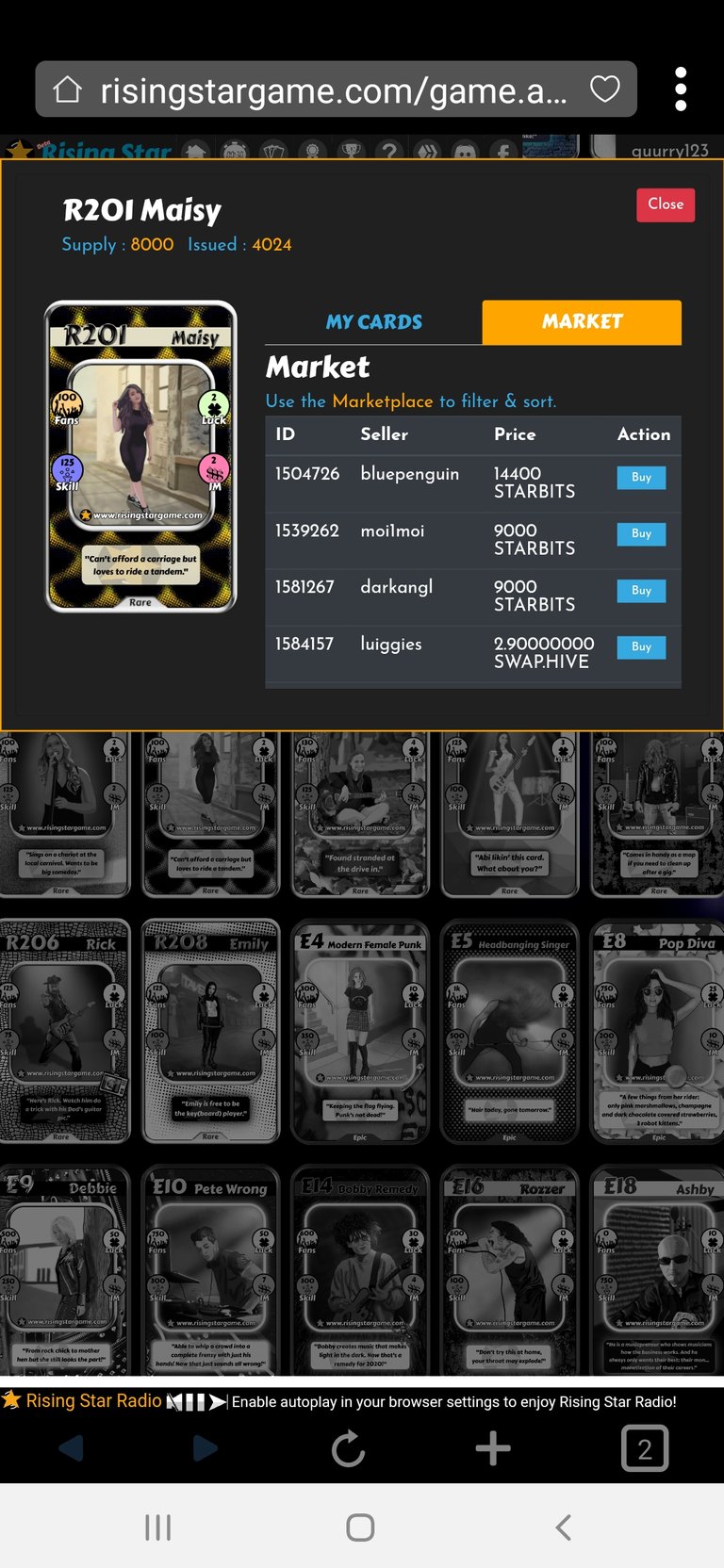 ---
Don't forget to check the all available cards (scroll down to check). The available cards may be available for sale with other currency also. Check for card on sale with starbits. Make sure that you must have the sufficient Starbits in you Hive-Engine wallet (not in game wallet).
In my case the available card's price varies from 14400 to 6600 starbits. So minimum price is 6600 starbits. Ciclk on buy button adjustment to specific card.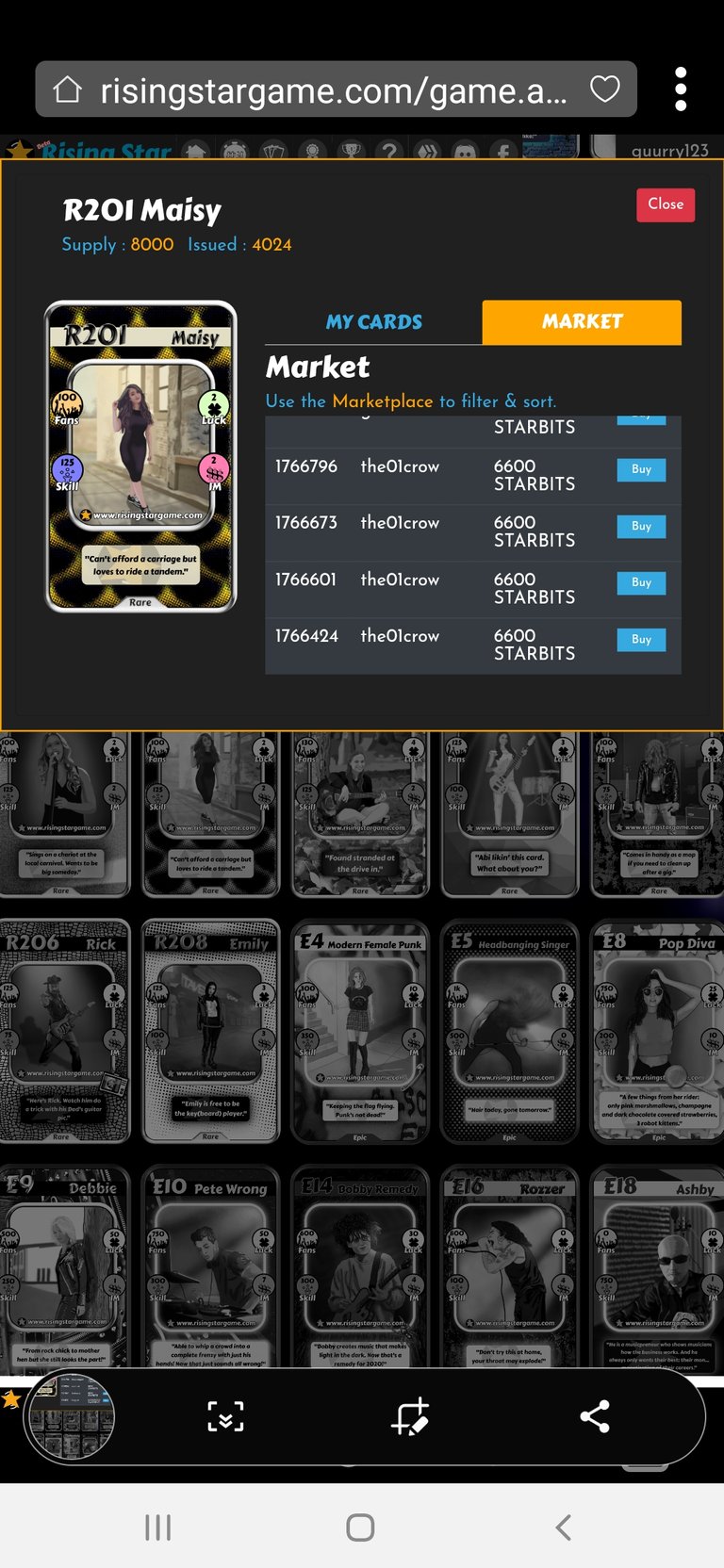 ---
You will see a new review page when you click on buy button. If the review page opened in Keychain browser itself then you can directly click on the buy button to complete the purchase process.
If review page will open in different browser (happened with me also) then copy the url from the new opened page and past it in Keychain browser.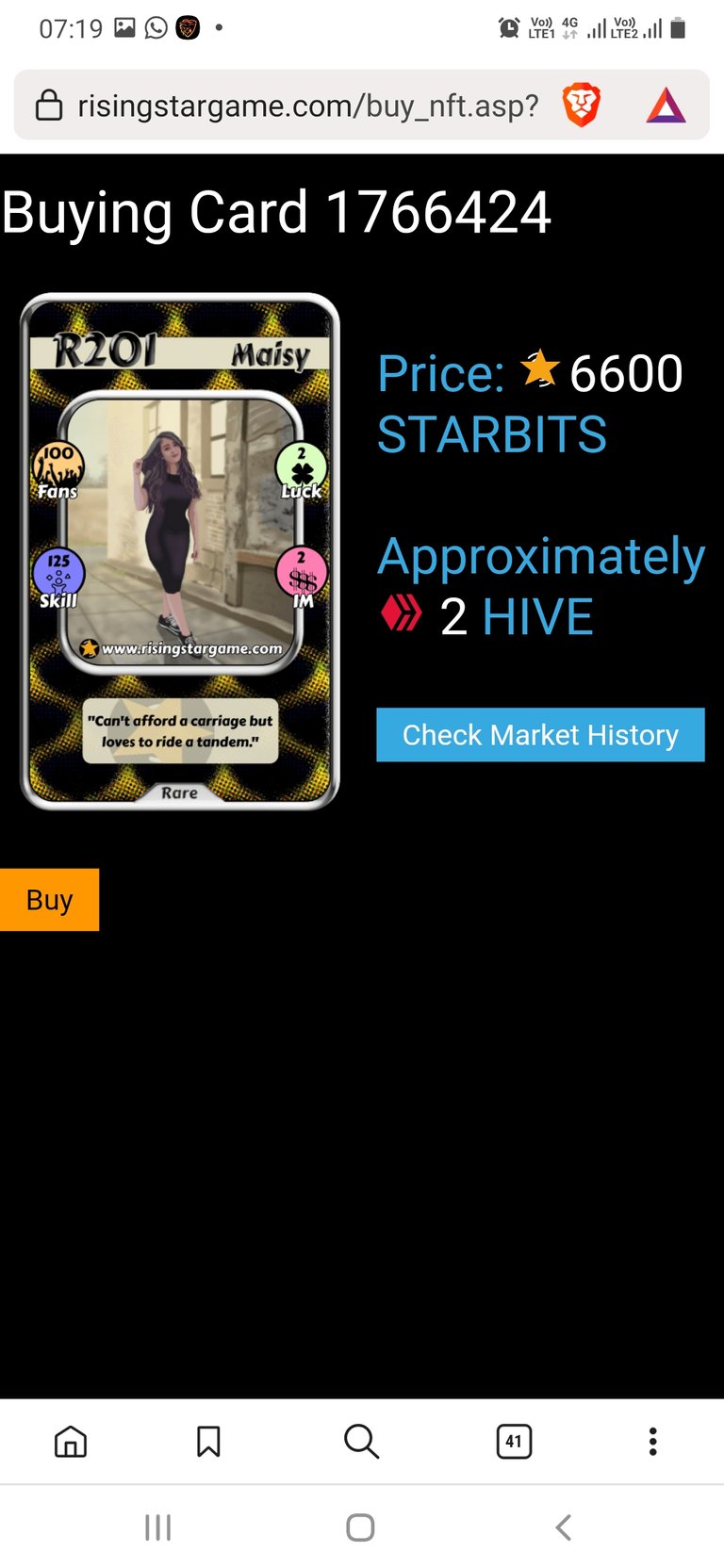 ---
Same page will opened in Keychain browser, click on the buy button.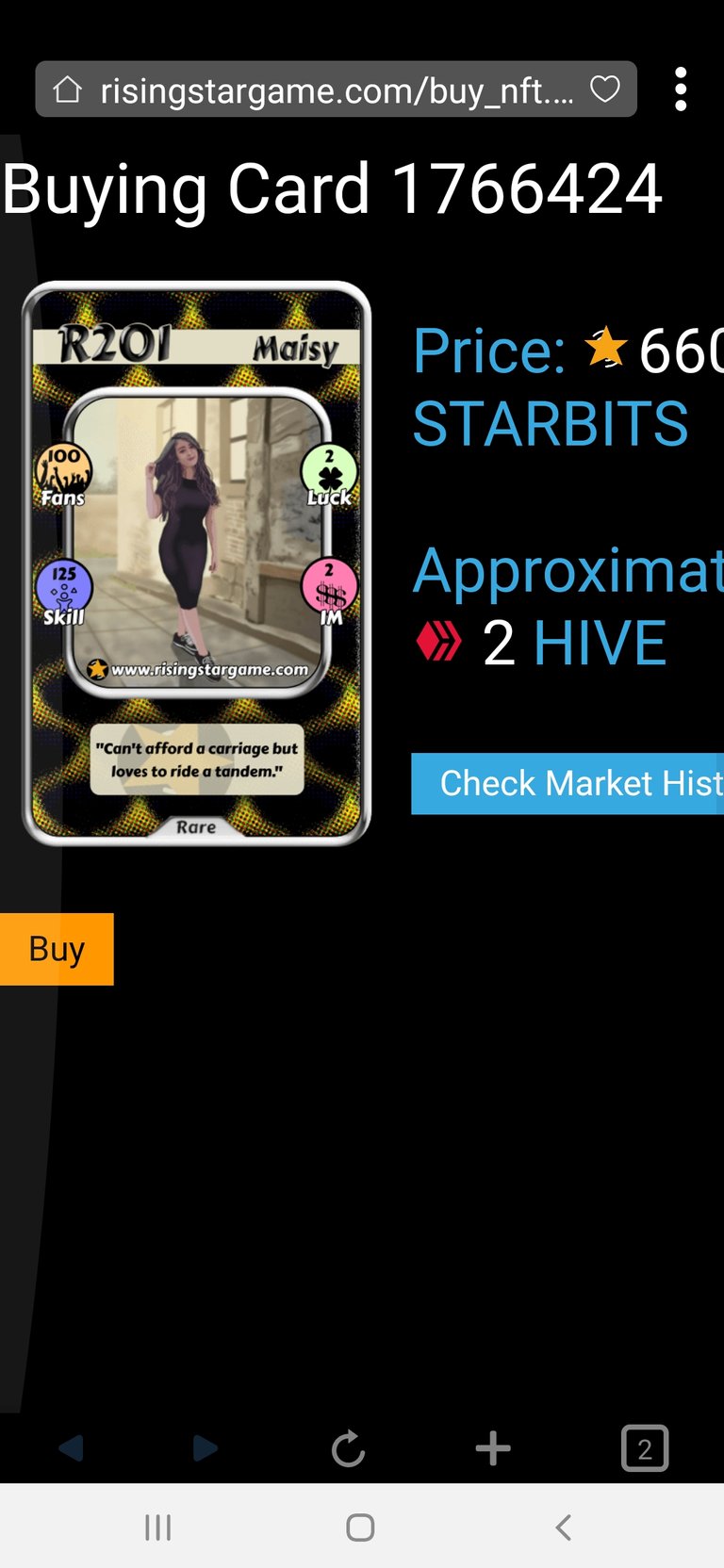 ---
Card will not shown immediately, It will take some time. Cick on CLICK HERE button as shown in the below picture.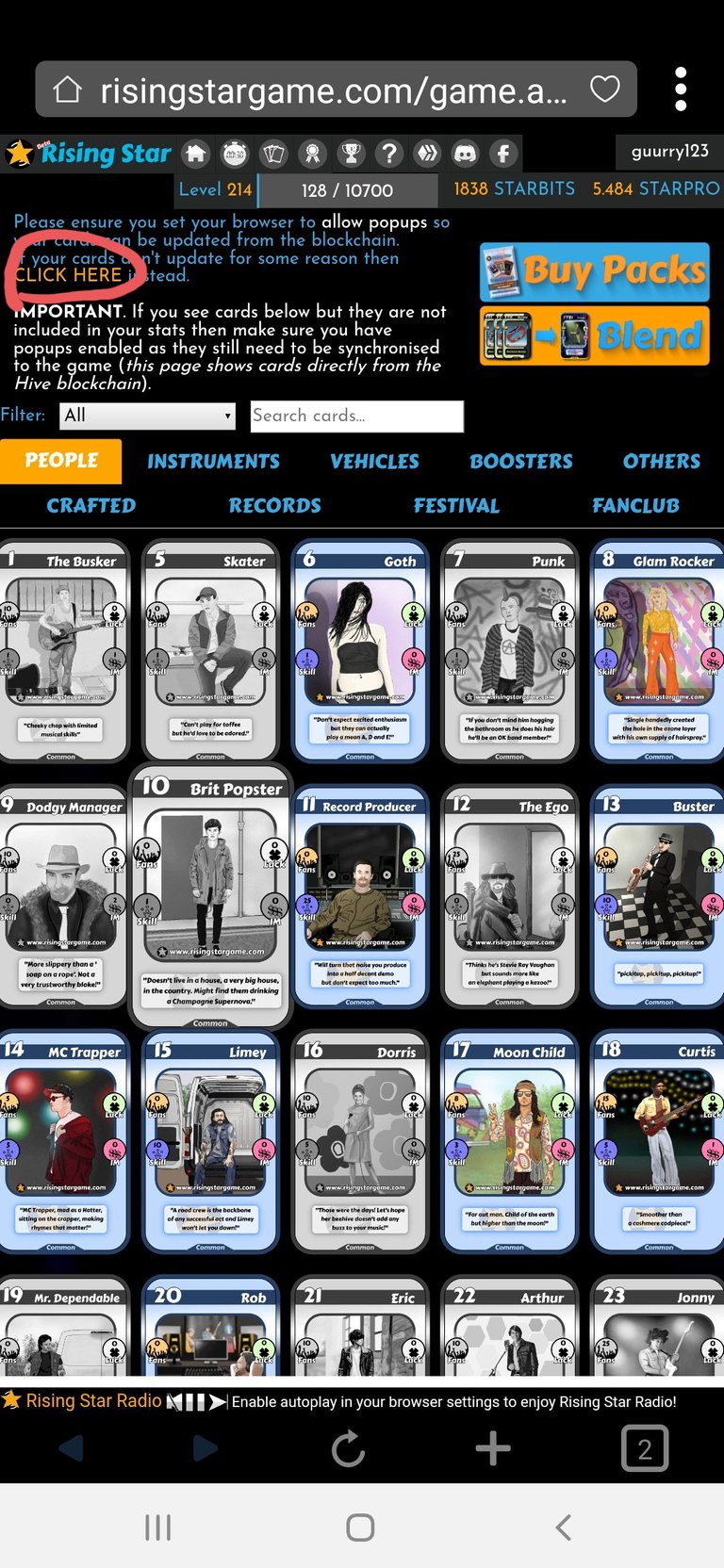 ---
A new page will get opened as shown the newly added card in you collection.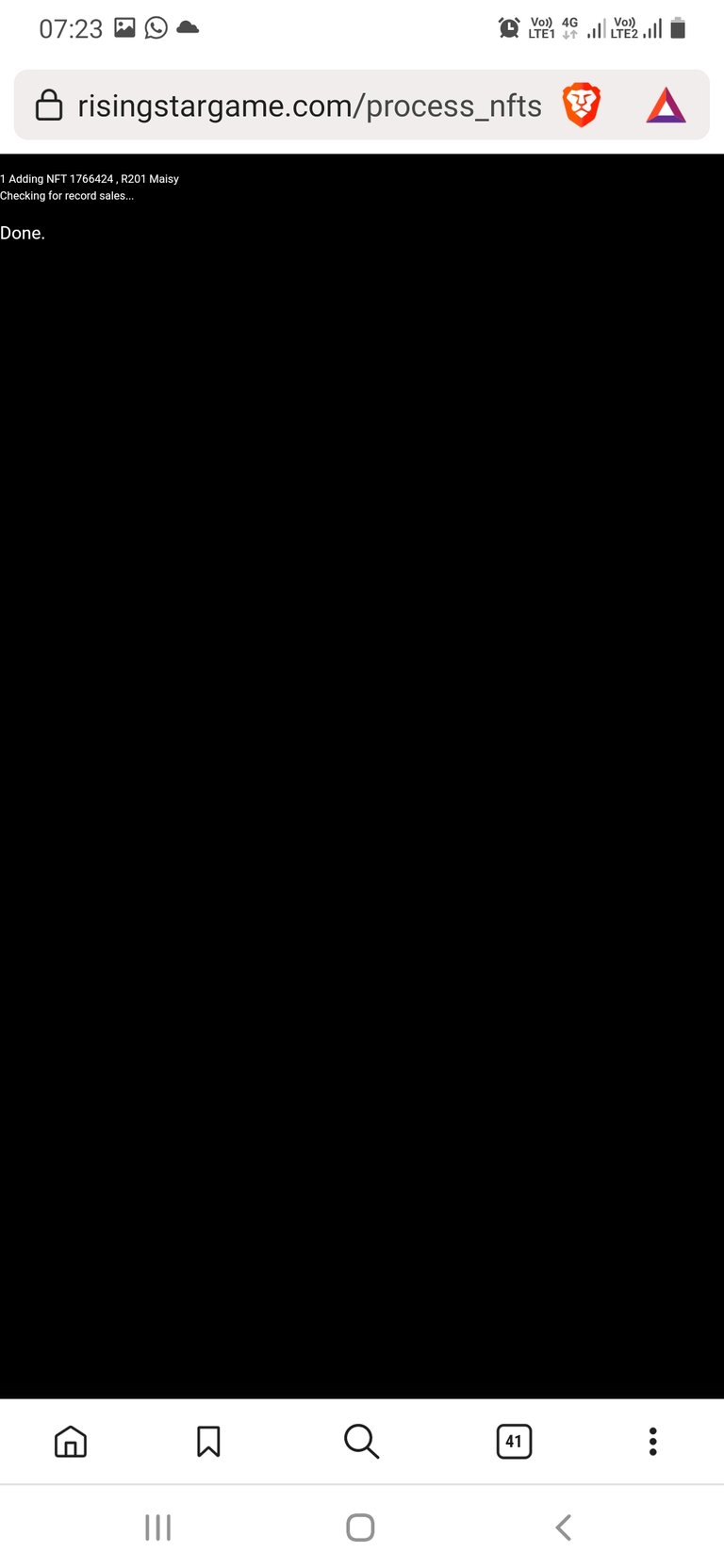 ---
You can check the status changed on main page also. Click on Fan button or other stats button to see the current particular stats.
I forget to take the screen shot before purchase.
You can check the before and after purchase status.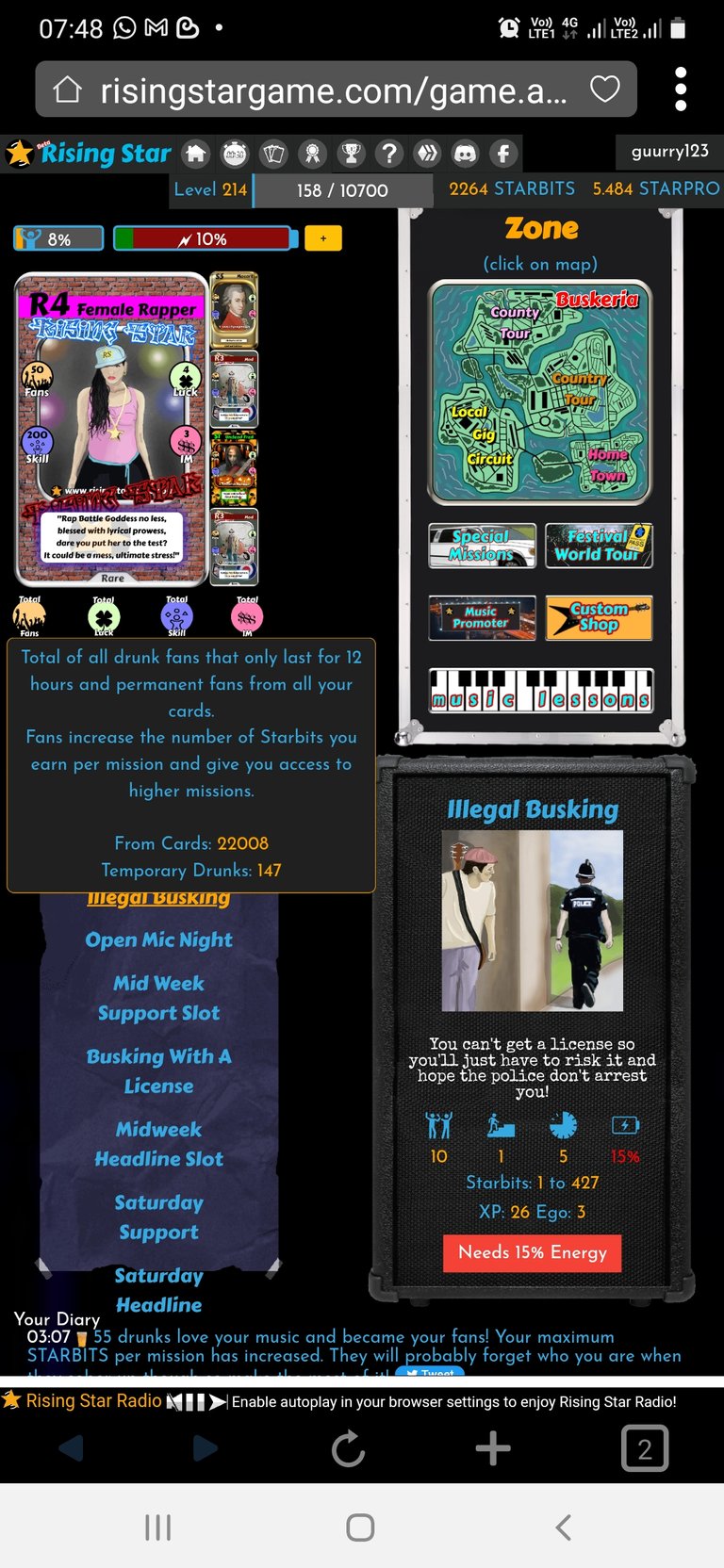 ---
Hope the post will help new comers in game. Tagging @sukmhaske @kamalhs @chandorepraj @chetanmann
Hope you will be able to purchase card now.. let me know if you have any issues or doubt.
---
Post is part of my crowd funding experiment and rewards from the post will be used to purchase a watch (So that I can effectively participate in @actifit project). Thanks in advance for the support.
Posted Using LeoFinance Beta