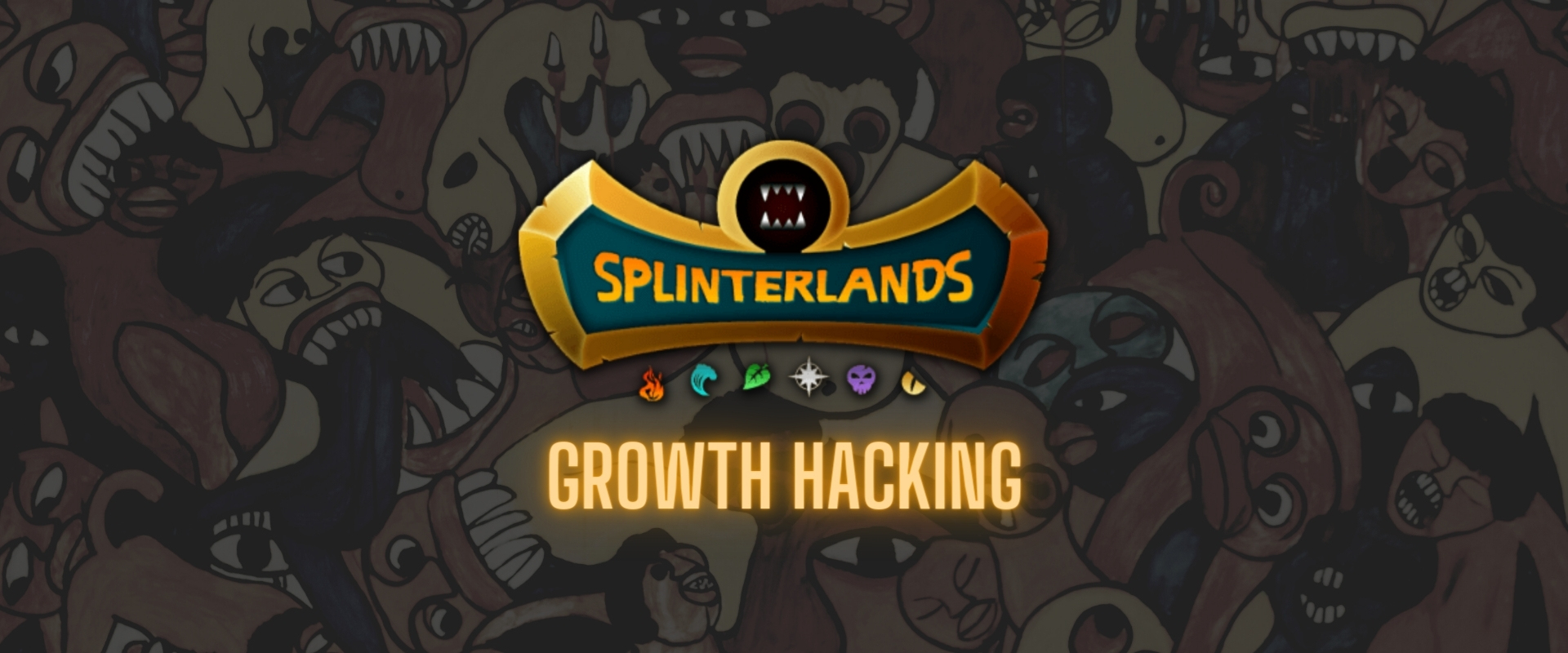 Blockchain gaming is one of the core sectors that is contributing to mass crypto adoption. Now, gamers & investors can own Digital Assets to earn crypto by using them within the game or trade them for profit. It's one of the emerging ways to make money online and there are many players who are earning their daily bread by just playing various blockchain games. No wonder the count of new NFT games is growing every week.
Axie Infinity is one of the most popular Play-2-Earn games. The maximum activity to it is coming mostly from developing countries (Philippines, Venezuela & Brazil) which got hit severely by COVID. This game has provided an income source to such players at a time when the unemployment rate is so high all over the world. It is impacting lives in a great way!
Another P2E game that has gained so much popularity over the last few weeks is Splinterlands. It is set to become the no. 1 game in terms of daily active user count and that's huge!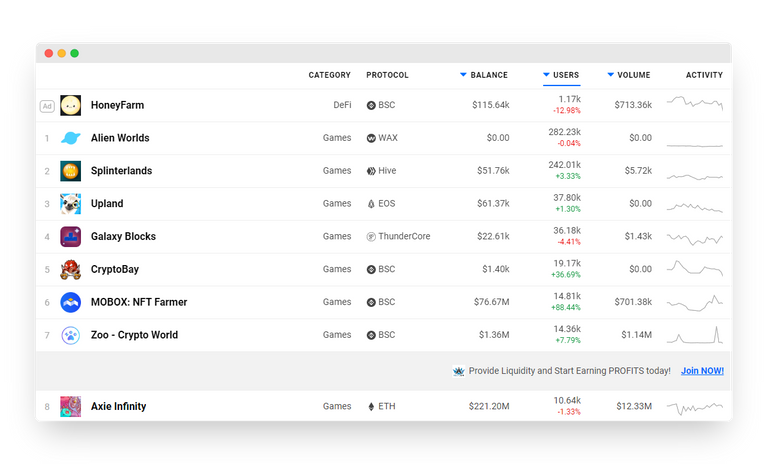 Source: https://dappradar.com/
---
Monsters vs Axies
You just need a $10 investment to get started with Splinterlands while on Axie Infinity, you need $1200-1400 to buy 3 Axies at least which are required to start the game. Also, transactions on Splinterlands are fast & feeless since it is built on Hive Blockchain whereas Axie is built on Ethereum, known for its insane GAS fees. If you are new to Splinterlands, please check out this basic guide by @crypto-guides to get you started with the game.
In this blog, I am not going to cover and discuss other differences. We will only compare the social activity related to both of these games in the last month to see which one is more popular and how Monsters can steal the show from the cute Axies.
Social Dominance
Lunarcrush is a website that provides real-time cryptocurrency social media analytics and crypto exchange. If you and search for Axie Infinity, then you will get the different scores and social metrics to understand the current hype on social media about the game. On the left-hand side, you can see a lot of red. It means that the social activity of Axie is slowly dying even though there were 1.1M Tweets were done in the past one month. Those are some huge numbers.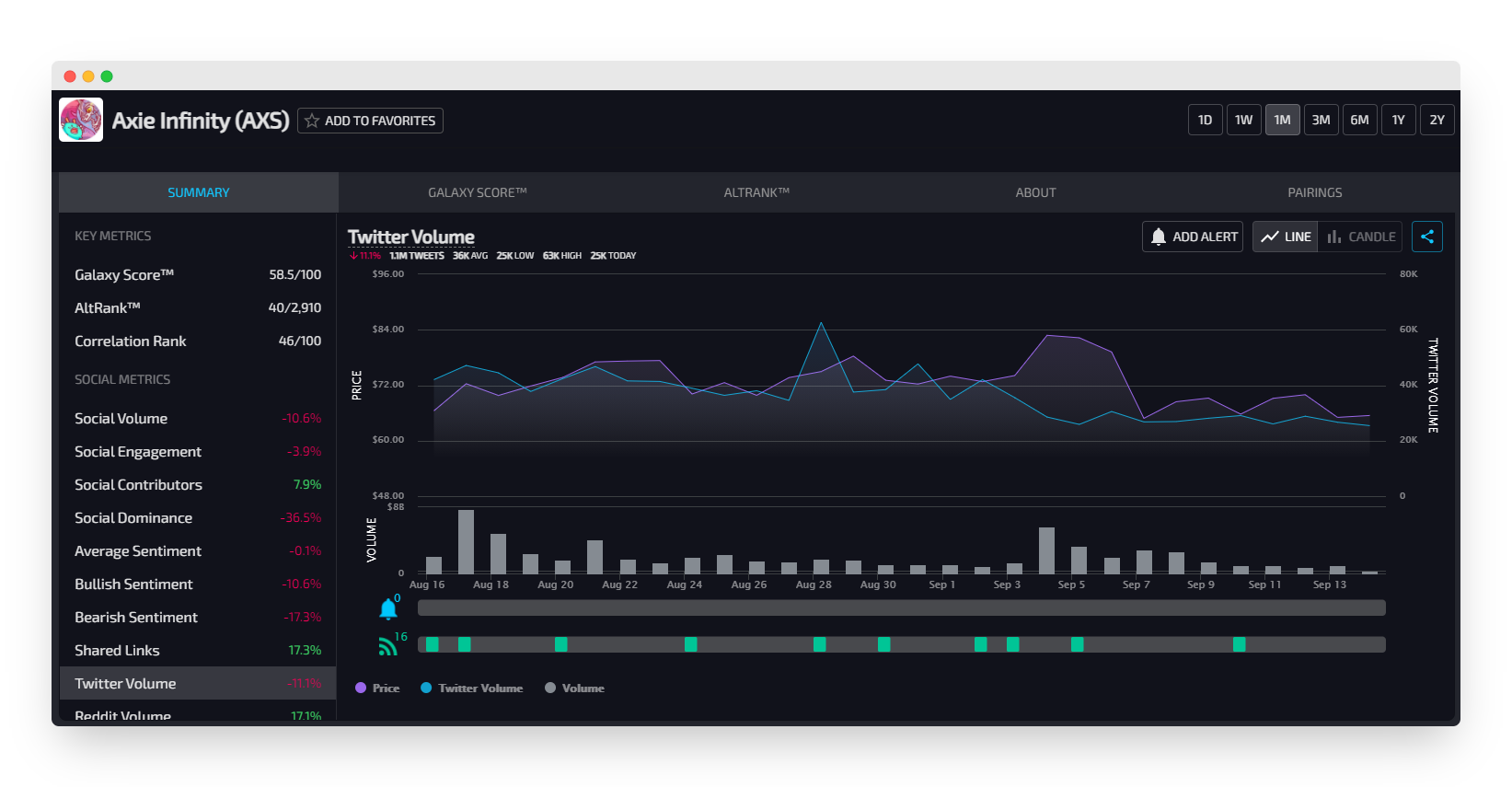 Now comes the interesting part. If you see similar data for Splinterlands, you will find out that the social activity has grown quite a lot in the past one month and it just doesn't seem to stop. Just look at the Twitter volume seeing a rise of 80% with 33.4K Tweets done in total. Soon monsters will get ahead and take over all of the social media, not just Twitter. But can we make that happen a little sooner?
10x Social Activity = 10x or 100x Users? Who knows, we will never know until we try something to make that 10x.
Target Axie Owners
Apart from being gaming junkies, Axie Infinity players aka Axie owners are also social media junkies. Are we running ads to target them @aggroed and @yabapmatt? Since these Players already know how blockchain gaming works, they are most likely to convert. They must be bored by playing with those cute little Axies, they need some thrill and monsters can provide that.
Social media ads on Facebook and Twitter can boost the no. of new players joining Splinterverse. You guys can target the following demographics and audiences (keywords) to maximize the ROI on your ads:
Country: Philippines, Venezuela, and Brazil.
Age: 16-35
Sex: Male
Target Keywords: Axie Infinity, Play to Earn, Blockchain Gaming, How To Make Money With Crypto, How To Earn Crypto etc.
In some countries, you can even target employment or working status. College-going kids might have $10 or $100 dollars to spare but $1200 is a huge dent in their pockets.
Social media ads to target these countries are so cheap and you can even boost your social media activity apart from getting direct sign-ups or sales. Young people react more to these ads and luckily our audience is also the same. Check out the below ad I saw on my Facebook a few days ago. Since I keep using those keywords while searching on google, I was targeted: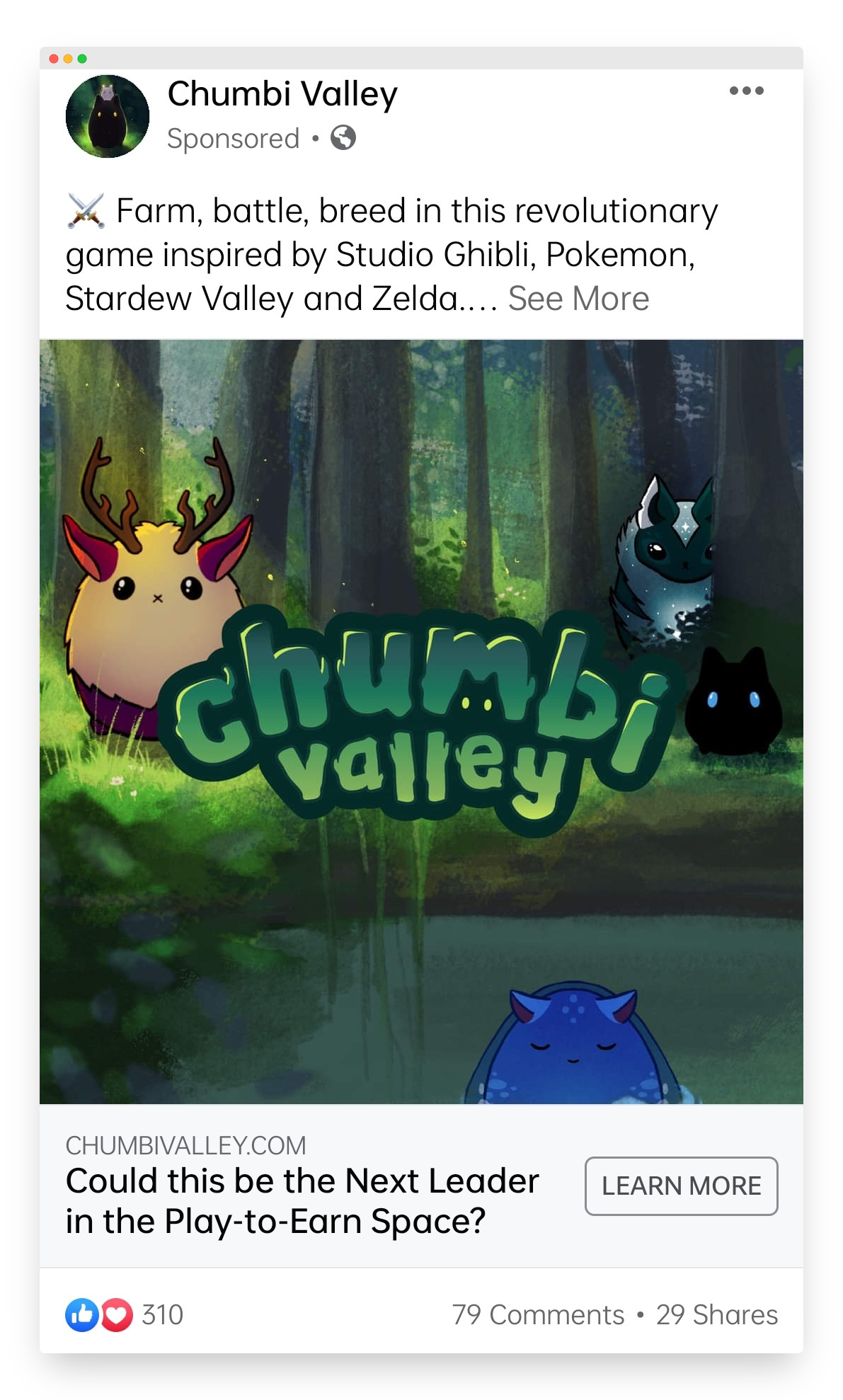 You just need to use a picture or a sexy video with an ad copy to lure Axie players to Splinterlands. I am not sure if you guys are considering it already but it's worth a try.
Someone Make The Damn Documentary
There's one more marketing hack that we can use for Splinterlands. Do you know there is an 18 minute documentary about the Play 2 Earn gaming scene in the Philippines? Actual players from one small community in the rural part of the country are sharing their experience and how a simple blockchain game changed their lives.
Check this out on Youtube:
I know for a fact that Splinterlands has also changed several lives. We all can do this with a little bit of community effort. Just need someone to take an initiative and then massive actions. Pre-production, shooting, and editing the movie would require time and capital. But it's also worth a try.
These are some of the ideas I wanted to pitch to the devs of the game and the SL community. Please let me know your thoughts and suggestions below. Let's take Splinterlands to the moon. 🚀
---

https://leofinance.io/@finguru

https://twitter.com/finguru6

finguru#4062
---

Not financial advice. For infotainment purposes only.
Posted Using LeoFinance Beta