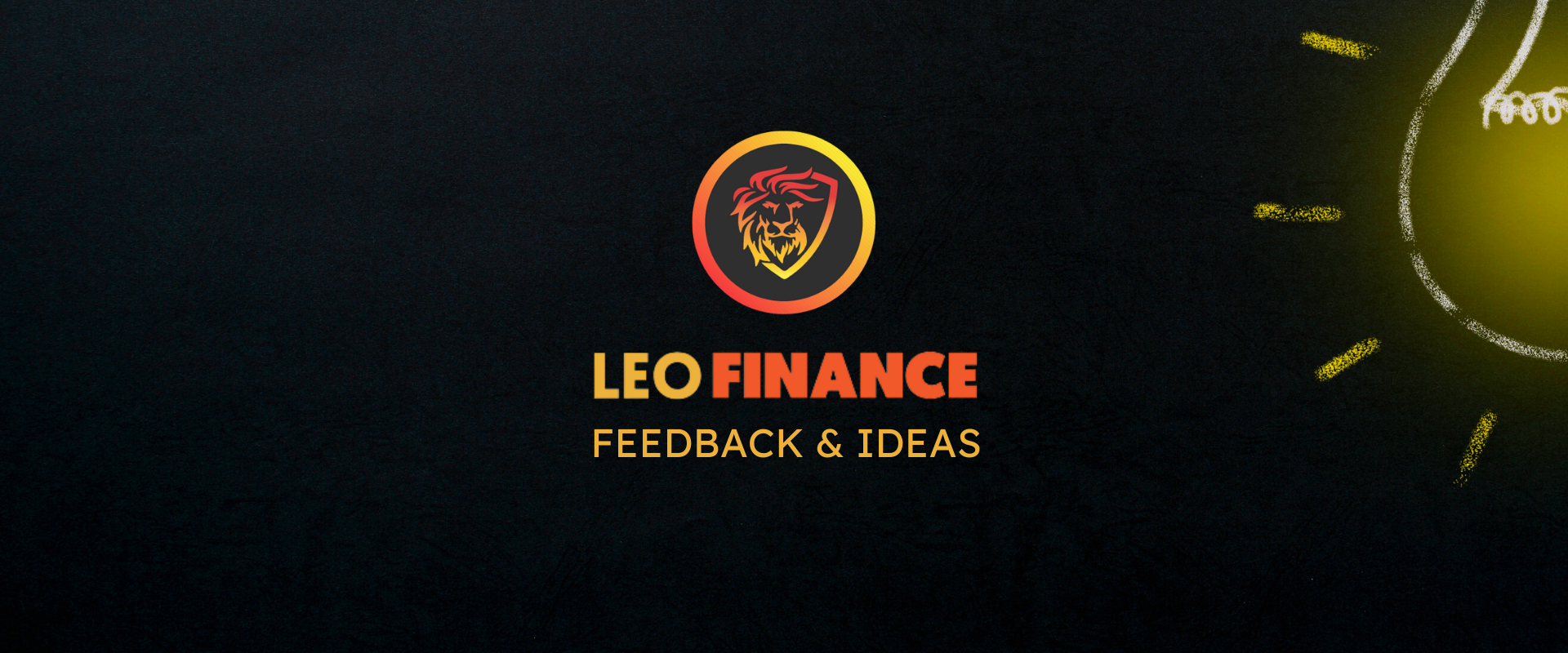 ---
@whatsup, one of the members of the new 'curation team' of Leo Finance has made a post asking the community for their feedback and ideas on how to grow this place. I was in the middle of writing my response and realized that there are so many ideas I want to share. If your comment is more than 500 words, it's a freaking post. @whatsup also asked everyone especially newbies to respond to this:
Did You Find Leofinance First or Hive?
Well, I found a Hive article tweeted by @nathanmars or someone else, I don't remember exactly. It was posted on the Leo Finance community and then I decided to make a new Hive account specifically for it via Ecency. There were two reasons to join:
To learn more about Crypto & Finance while teaching everyone what I learn so that we all can benefit from this new economy. Surround yourself with the people who reflect who you want to be, Mama says and She's right! Leo Finance has enabled me to do both and the 'fun' was the unexpected part. Initially, I bought LEO (@ $1) and other Hive Engine Tokens with my own money. And I have been dollar-cost averaging into them since then. Also, I found various outside opportunities all thanks to the brainy Lions I found on this platform.
To boost my Content Creation skills. I have published 123 & made 6772 comments in 6 months, so that's a lot of practice I have been through already. With 123 posts comes at least 123 thumbnails. Each thumbnail takes me enough time for some people to write a single post. That doesn't mean I suck 😂, but I am trying to find a balance between quality and efficiency. I am getting there, all thanks to LEO Finance. My next step is to play with Video creation too. Let's see when and how that happens.
My Ideas For World Domination
After using Leo Finance and its suite of applications for 6 months, I have come up with a list of ideas catering to different facets of the platform:
Referral Reward System
IMHO, a referral reward system is vital for any new platform to grow its userbase. All great exchanges have it and people make a shit ton of money just by referring an app or a new platform to their friends and family. This will give more reasons to the current userbase of Leo Finance and Cub Finance to promote the shit out of them. Who doesn't like extra money, right? I am not sure how much feasible it is to do right now but Cub Finance should definitely have it. Many DeFi platforms are running a decent referral system already. It's the best form of marketing we can do because let's face it, 'word of mouth works' and when there is an incentive, it will work even better. I have made a detailed post on it, please check it out.
Official Giveaways & Contests
Newbies would love to participate in them. When I joined, I took part in various contests. It helped me boost my rewards and also got me some visibility among other stakeholders. Reward the winners with Liquid LEO, Upvotes, or Homeminted LEO NFTs on Hive 😁 - anything works. Select any trending topic, launch a contest and see the engagement growing. We can actually use our community's writing power to create content that could bring us even more traffic. This can be done weekly or maybe twice a month. We can create a contest template that can be published without making too many changes every time we need to launch one. I am up for taking up this activity if you guys want.
SEO & Twitter Training
Search Engine Optimization is the key to attracting traffic to Leo Finance. Very few people know about it and most of the people who make posts, don't even follow the basic SEO guidelines. We need a system to make everyone aware of the minimal settings they do need to do before hitting that publish button. Similarly, we should use social media websites like Twitter and Facebook to attract more people. Because that is where the larger crypto community is socializing every day. @whatsup would know since she's quite active there and makes funny tweets that I really like. There are thousands of projects dying for people like us to write about them. I have personally shared my articles while tagging the relevant projects and most of them retweet or engage. Individually we might have a few hundred followers but together it could be thousands and more. The general idea is to train the current userbase on how to utilize SEO and Social media effectively to lure outside attention.
Engagement
Google likes it when a page gets constant hit by multiple different users with a short span of time. That's where engagement comes in handy. Like 'contests', we need to find other ways to boost activity on LeoFinance.io. I see many good folks spend their entire day on Leo Discord. Get those chats on Leo Finance, please. We will be doing a charity to every Leo Stakeholder by boosting the engagement on the platform. Everyone who's reading this post, I invite you to @leomarkettalk (by @taskmaster4450), a really cool place to have amazing conversations about anything and everything. We have a group of people who are constantly contributing to the activity, it would be great to see new peeps stopping by.
Leopedia
Leopedia is outdated! 6 months ago it was relevant to me and it is still relevant to newbies but it needs to be updated with the latest links, tutorials, data, etc. Before looking at the website, I thought I would be finding guides and tutorials on a vast variety of subjects related to Hive, Leo, and Crypto in general. Do you have any plans to extend it or will it remain as it is? Do you guys know that we have a project called @crypto-guides which is a community effort, led by @forexbrokr. Every week or so different participants complete one guide of any Crypto/Blockchain related project of choice. So far we have completed around 18 guides (SEO Optimized) and more to come. You guys can integrate or feature these guides on Leopedia.
Marketing
It's a sad reality that Hive is lacking in marketing. Even though we have so many amazing things going on, a large part of the crypto community is unaware of it. We will be touching $1 soon but even that is low for a coin that has so many use cases and a mind-blowing community. Major thanks to @lordbutterfly's marketing campaign and Splinterlands popularity, we are now slowly picking up the pace. My point is, we need a strong marketing campaign going on specifically for Leo Finance & Cub Finance to target both organic and inorganic traffic. Are we running social media ads on Facebook, Twitter, or Instagram? A few months back I heard that we hired a company for doing such a thing but we don't know what happened to that.
I hope these points made sense to you guys and looking forward to your responses. I know it's not possible for Leo Finance team or the curators to take up all of these things at once. I would love other community members to pitch in and contribute wherever they can. Let's make Leo Finance an awesome place to collaborate and socialize with each other while having fun.
---

https://leofinance.io/@finguru

https://twitter.com/finguru6

finguru#4062
---

Not financial advice. For infotainment purposes only.
Posted Using LeoFinance Beta