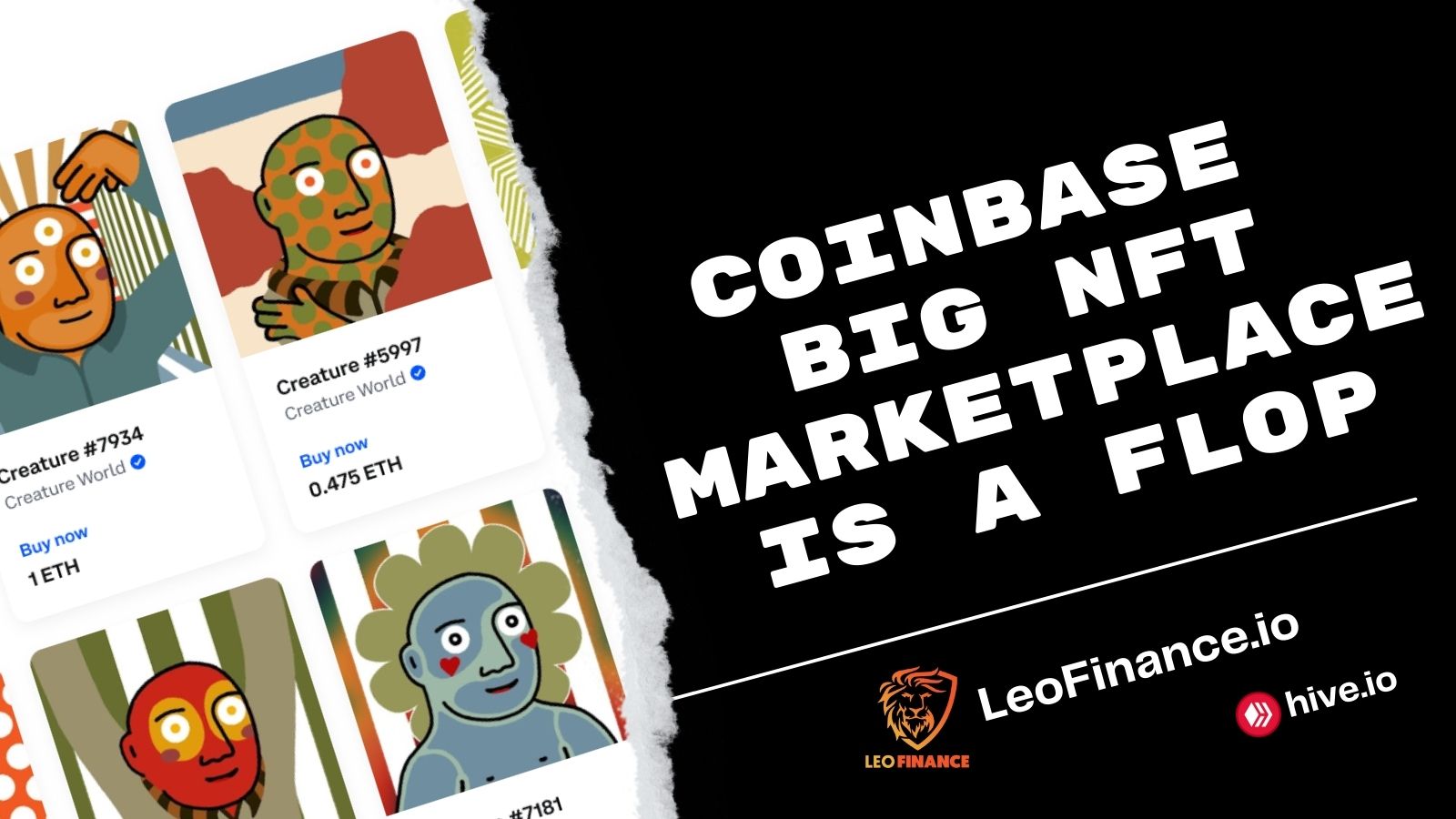 Coinbase Big NFT Marketplace Is A Flop
Coinbase had talked for a while about launching their own NFT marketplace in order to start fueling some revenue for their stock. I mean when you see platforms like OpenSea shell millions of dollars it seems like the next thing to jump on right?
Well Coinbase had a great struggle I call it not knowing your market and on top of that launching something at nearly the worst possible time. They delayed things in order to pull in some big names to launch their NFTs platform but those delays most likely cost them millions. As the markets took a turn for the worst and the months of trash talking on NFTs from twitter and its users it was clear they were well behind the ball.
May 4th coinbase opened its NFT doors to all and I have to say I didn't have a clue it was open myself. In 19 days only 4,132 bought NFTs which is a horible number compared to the 2.1 million that joined the waiting list. Normally you have a 0.5% - 1% conversion rate in marketing so there team really screwed this one up big time.
Under 1 million was sold putting there income at just 46k per day. Compare that to Opensea of 2.2 billion last month or 78.5 million daily you can clearly see that coinbase took next to nothing of the market share.
Those numbers have shrunk though at current rates OpenSea only pushes about 34 million in value daily. While everything for the most part has taken a beating one up and coming trend on Opensea seems to be Solana which has increased its selling value day after day but that market share is very small making up just 15k in value daily.
You would think with a 2.1 million user base that they would be able to push at least some decent numbers in the NFT space so it begs the question of was this just poor marketing. Again I had no idea it had officially launched till now. or is it just that hard to break into the NFT marketplace and take on the new giant in town OpenSea which is now expanding into Smart NFTs with Seaport Marketplace
Could this mean even more bad news for the COIN Coinbase stock? Most likely as it's gone from a $260 stock at the start of this year all the way down to its currenty value of just $66.
However that could start to open up opportunity. A bulk of the value of coinbase comes from trading fees and right now that is at an all time low. It will effect the stocks price however the $20-$40 range seems like it might be a good buy in on coinbase if you want to jump in on that and prep yourself for what I feel will be another crypto Rally in Q3-Q4 of this year with Ethereum moving to PoS which will cause price action and FOMO. It's unseen yet if Coinbase will offer staking rewards on Ethereum but I'm betting it will and it could be a decent revenue share for the company as lazy people pile in on it.
Posted Using LeoFinance Beta