Hello there. At the beginning of last May, I made a post about BNB. Please read that article before posting this. Let's get to the topic of today; Today we will evaluate the BNB/USDT chart.
As you know, the wind of DEFI (decentralized finance) continues to blow. In the past few months, this space has kept the cryptocurrency market afloat. And decentralization continues to spread. It's not just about finance. Decentralized games and decentralized applications are taking the market by storm. As I mentioned in the previous post, BNB is positively affected by decentralized finance and decentralized applications.
The chart below is from Tradingview.com. Daily chart. It contains the price data of the BNB/USDT pair of the Binance exchange.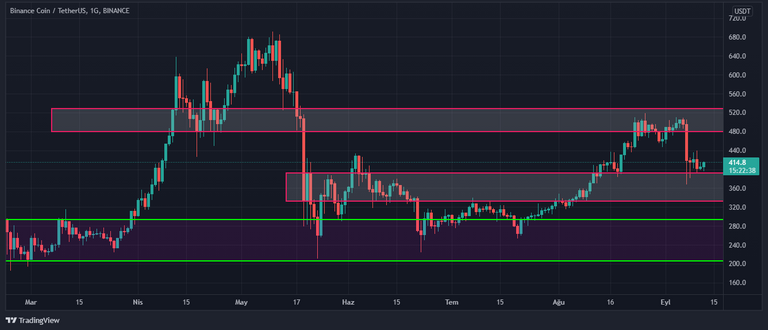 As can be seen in the chart, the price is stuck in the $250-$500 range. In the short term, it tests the middle supply-demand region. For the uptrend, we should see clear candle closes above the upper 480-530 level. We should see clear candle closes below the 295-205 level for the downtrend.
Note: I do not give investment advice. You should make your investment decisions yourself according to your financial and psychological situation. It will be more beneficial for you to see this sharing as an educational work. See you.