Since May 5th I started making a spreadsheet with my crypto savings.
Then I wrote down the balance I had at 11:59 pm each day, and the dollar quote of each currency.
That way I could better control my money, and know where it's going up and where it's going down so I can better allocate resources.
This helped me not to have anxiety about which currency to invest or which currency to withdraw.
So today, 3 months later, I decided to do a POB price analysis over the past 3 months.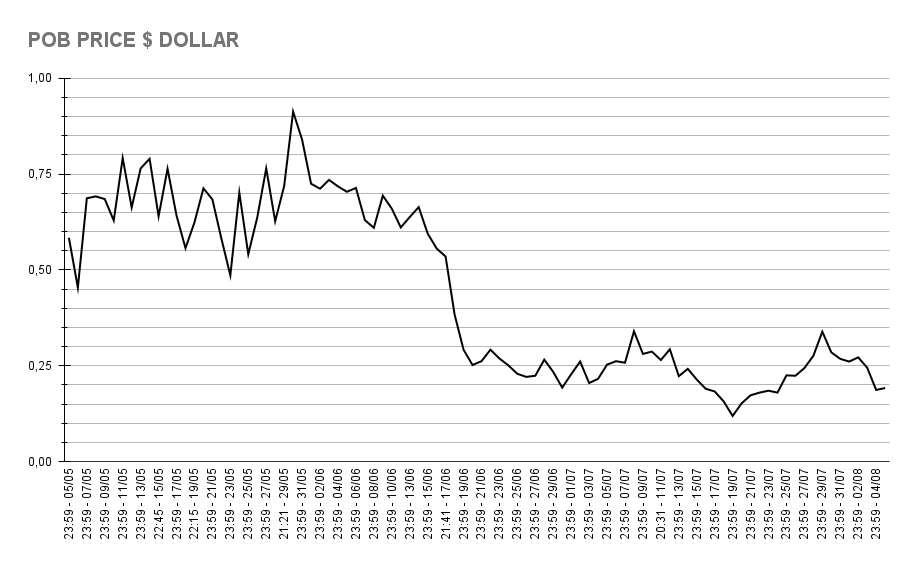 As we can see, since the 19th of June the price has been fluctuating between $0.20 and $0.30.
I have already accepted that this is the price margin that the POB will fluctuate while in inertia, that is, no other functionality for the network or announcements appear.
Some turbulent seas that we experienced months ago are no longer in evidence and the POB is maintaining a neutral routine from my point of view, without many misunderstandings and without much progress, I believe the price is reflected in that too.
I believe that people are in the accumulation phase, given the perspective of a scenario like 2013 and 2017 for 2021, thus, betting on the rise of bitcoin and, consequently, of alts at some point between the months of November and March.
After the accumulation period, I bet the POB can easily go back to a $0.50 parameter pulled by the Hive rally.
Take a look at the HIVE:POB quote, it's really interesting to know if you're getting more or less HIVE, but there's also the dollarized look, so we can know when to diversify our assets.
I don't see moments for panic, nor for euphoria, I see for a few more weeks the POB continuing to walk by these values, while new whales will continue to buy at a price close to 0.6 HIVE/POB and then they can also be whales around here.
Below is a table with each date and the dollar price for the date.
| DATA | PRICE |
| --- | --- |
| 23:59 - 05/05 | 0,584 |
| 23:59 - 06/05 | 0,454 |
| 23:59 - 07/05 | 0,687 |
| 23:59 - 08/05 | 0,692 |
| 23:59 - 09/05 | 0,685 |
| 23:59 - 10/05 | 0,629 |
| 23:59 - 11/05 | 0,792 |
| 23:00 - 12/05 | 0,663 |
| 23:59 - 13/05 | 0,765 |
| 23:59 - 14/05 | 0,79 |
| 22:45 - 15/05 | 0,64 |
| 23:59 - 16/05 | 0,764 |
| 23:59 - 17/05 | 0,642 |
| 23:59 - 18/05 | 0,557 |
| 22:15 - 19/05 | 0,624 |
| 23:59 - 20/05 | 0,713 |
| 23:59 - 21/05 | 0,684 |
| 22:50 - 22/05 | 0,582 |
| 23:59 - 23/05 | 0,486 |
| 22:15 - 24/05 | 0,702 |
| 23:59 - 25/05 | 0,541 |
| 23:59 - 26/05 | 0,637 |
| 23:59 - 27/05 | 0,765 |
| 23:54 - 28/05 | 0,627 |
| 21:21 - 29/05 | 0,719 |
| 23:59 - 30/05 | 0,913 |
| 23:59 - 31/05 | 0,84 |
| 23:59 - 01/06 | 0,725 |
| 23:59 - 02/06 | 0,712 |
| 23:59 - 03/06 | 0,735 |
| 23:59 - 04/06 | 0,718 |
| 23:59 - 05/06 | 0,704 |
| 23:59 - 06/06 | 0,714 |
| 23:59 - 07/06 | 0,63 |
| 23:59 - 08/06 | 0,61 |
| 23:59 - 09/06 | 0,694 |
| 23:59 - 10/06 | 0,66 |
| 23:59 - 12/06 | 0,611 |
| 23:59 - 13/06 | 0,638 |
| 17:17 - 14/06 | 0,664 |
| 23:59 - 15/06 | 0,595 |
| 23:59 - 16/06 | 0,556 |
| 21:41 - 17/06 | 0,535 |
| 23:59 - 18/06 | 0,384 |
| 23:59 - 19/06 | 0,292 |
| 23:59 - 20/06 | 0,252 |
| 23:59 - 21/06 | 0,262 |
| 18:28 - 22/06 | 0,292 |
| 23:59 - 23/06 | 0,269 |
| 23:59 - 24/06 | 0,251 |
| 23:59 - 25/06 | 0,229 |
| 23:59 - 26/06 | 0,221 |
| 23:59 - 27/06 | 0,224 |
| 23:59 - 28/06 | 0,266 |
| 23:59 - 29/06 | 0,234 |
| 23:59 - 30/06 | 0,193 |
| 23:59 - 01/07 | 0,228 |
| 23:59 - 02/07 | 0,261 |
| 23:59 - 03/07 | 0,205 |
| 23:59 - 04/07 | 0,216 |
| 23:59 - 05/07 | 0,253 |
| 23:59 - 06/07 | 0,262 |
| 23:59 - 07/07 | 0,258 |
| 23:59 - 08/07 | 0,34 |
| 23:59 - 09/07 | 0,281 |
| 23:59 - 10/07 | 0,287 |
| 20:31 - 11/07 | 0,265 |
| 23:59 - 12/07 | 0,293 |
| 23:59 - 13/07 | 0,223 |
| 18:54 - 14/07 | 0,242 |
| 23:59 - 15/07 | 0,214 |
| 23:59 - 16/07 | 0,19 |
| 23:59 - 17/07 | 0,183 |
| 23:59 - 18/07 | 0,157 |
| 23:59 - 19/07 | 0,119 |
| 23:59 - 20/07 | 0,152 |
| 23:59 - 21/07 | 0,173 |
| 23:59 - 22/07 | 0,18 |
| 23:59 - 23/07 | 0,185 |
| 23:59 - 24/07 | 0,18 |
| 23:59 - 25/07 | 0,225 |
| 23:59 - 26/07 | 0,224 |
| 23:59 - 27/07 | 0,244 |
| 23:59 - 28/07 | 0,276 |
| 23:59 - 29/07 | 0,339 |
| 23:59 - 30/07 | 0,285 |
| 23:59 - 31/07 | 0,268 |
| 23:59 - 01/08 | 0,261 |
| 23:59 - 02/08 | 0,272 |
| 23:59 - 03/08 | 0,245 |
| 23:59 - 04/08 | 0,187 |
| 20:32 - 05/08 | 0,191 |
---
Posted via proofofbrain.io