I bring you now the graphic analysis of the Brazilian POB POWER growth. According to the last Ranking I posted.
This week we had the inclusion of new Brazilians on the list. And one of them occupies third place overall.
In this chart below we can see the distribution of POB POWER among Brazilians.
In the chart that compares the evolution of the first 5 in the last weeks I added our new member. I made a TOP 6. But for next week, I'll go back to using the first 4 only.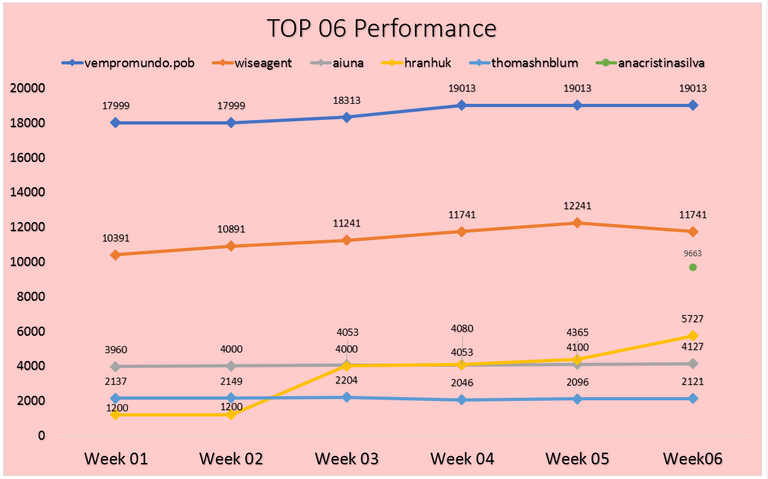 At the moment the TOP is very stable. And you can't nail anything. We will see how the order of forces will be until the end of the year and if we will have any surprises with the new members arriving here.
See you next week!
==============
Português
Dados e análise de crescimento POB POWER BR Semana 06
Trago para vocês agora a análise em gráficos do crescimento do POB POWER dos brasileiros. Conforme o último Ranking que eu postei.
Nessa semana tivemos a inclusão de novos brasileiros na lista. E uma delas ocupa o terceiro lugar geral.
Nesse gráfico abaixo podemos ver a distribuição do POB POWER entre os brasileiros.
No gráfico que compara a evolução dos 5 primeiros nas últimas semanas eu acrescentei a nossa nova integrante. Fiz um TOP 6. Mas para semana que vem, voltarei a usar os 4 primeiros apenas.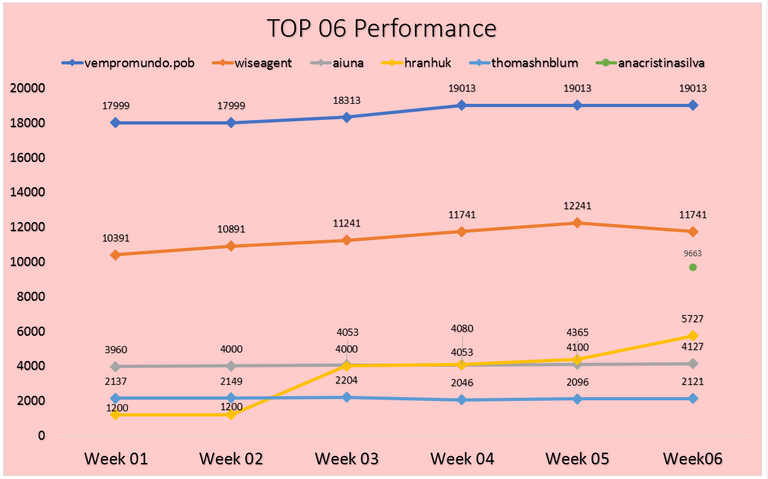 No momento está muito estabilizado o TOPO. E não da para cravar nada. Vamos ver como será a ordem de forças até o final do ano e se teremos alguma surpresa com os novos integrantes chegando por aqui.
Até a próxima semana!

---
Posted via proofofbrain.io